Manchester United
Manchester United defender Bailly provides fitness update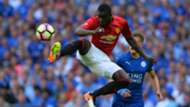 Manchester United defender Eric Bailly has seen little competitive football of late but insists that his troublesome knee "feels good".
The Red Devils centre-half has taken in two spells on the sidelines since completing a move to Old Trafford last summer.
The first of those forced him to sit out the whole of November, before suffering an unfortunate setback shortly after his return to action against Crystal Palace on December 14.
He was able to come back into contention on New Year's Eve, and played 90 minutes as United secured wrapped up 2016 with a dramatic 2-1 victory over Middlesbrough.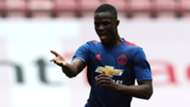 Jose Mourinho has been handling him with care, having seen Bailly settle quickly into Premier League life, but is now watching on from afar as the 22-year-old represents Ivory Coast at the Africa Cup of Nations.
He figured in their opening group game against Togo on Monday and offered a positive fitness update on the back of that display.
Valencia signs new Man Utd deal
Bailly told the Daily Mail: "I'm fine.
"The injury happened, but I have recovered physically and it feels good."
Bailly has also revealed that he is keeping tabs on events at Old Trafford from Gabon, joining the millions of spectators around the world who tuned in to catch United's 1-1 draw with Liverpool on Sunday.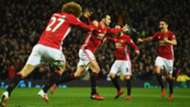 He added: "Yes, of course I watched it, with my friends.
"I have lots of friends in this team and we watched it together.
Zlatan: Pogba can cope with pressure
"It was a good game and a very important point for us, equalising at the end of the match. It's good for the team."
Bailly is part of an Ivory Coast squad looking to defend their continental crown at the Africa Cup of Nations and if they were to reach another final, then the defender would be missing for United until at least February 5.