Transfers
Man Utd's 15 best signings of all time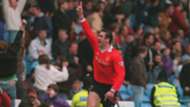 Sir Alex Ferguson's phenomenal success at Manchester United was built around the solid base that was the Class of '92, but without the odd dip into the transfer kitty there would have been something missing.
The legendary former boss is the obvious touchstone for market wizardry in the modern game, so it is perhaps natural that he should dominate a list of United's greatest ever moves into the market.
Perhaps it was his ability to find the right addition for the right price at the right time that set him apart from United bosses who had tried and failed before him to make the club a force once more.
Below, Goal goes through the 15 best signings that the Red Devils have ever made...
---
STEVE BRUCE | From Norwich | £800k (€1.2m) | 1987
---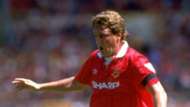 Steve Bruce arrived at Old Trafford little more than a year after Alex Ferguson had become United manager. He brought with him a burgeoning reputation and what was at the time a fairly hefty price tag.
But Bruce soon established himself as United's defensive rock, and he would form one half of the centre-half partnership with Gary Pallister which laid the foundation for the club's all-conquering spree in the Premier League.
Tough as teak and with a great head for the game, Bruce was perfect captaincy material. He also racked up a phenomenal 51 goals in United colours, including 19 in the 1990-91 campaign alone. For an entire generation he was destined to become known as the best player never to play for England.
---
ERIC CANTONA | From Leeds | £1.2m (€1.5m) | 1992
---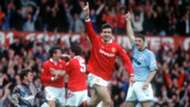 It started with a phone call by Leeds United managing director Bill Fotherby in his club's quest to sign Denis Irwin. It ended in one of the greatest chapters in Manchester United history.
Ferguson chanced his arm by returning Fotherby's call and asking if he could sign Cantona, little knowing that days before Leeds boss Howard Wilkinson had asked the club to sell the Frenchman to recoup much-needed funds before they reached a trigger-point in his deal which would mean them paying another £500,000 to Cantona. United made their move, and within six months he had been the catalyst behind their first title win in 26 years.
He didn't stop there, of course. In five seasons at United he only once failed to lead them to the Premier League crown, and that was when he was serving an eight-month suspension. His flair, his captive nature, his leadership and his majestic ability make him one of United's greatest players ever.
---
MICHAEL CARRICK | From Spurs | £18.6m (€27.2m) | 2006
---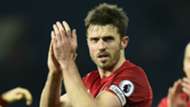 Players of the calibre of Roy Keane are meant to be very difficult to replace, but when Michael Carrick arrived at Manchester United the summer after the infamous captain's moment of TV rage he slotted in in no time.
Eleven years on Carrick is the club captain and still going strong at the age of almost 36, and it is fair to say that among his colleagues past and present he gains nothing but positive reviews. His vision and style have complemented United greats for over a decade and the club's plan for his long-term replacement is perhaps the biggest head-scratcher that lies ahead.
It might have been considered a questionable transfer fee at the time, but United's £18.6m was very well spent.
---
DAVID DE GEA | From Atletico | £17.8m (€20m) | 2011
---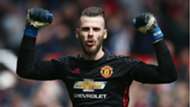 He cost £17.8m and in his early days with United he found great difficulty with the English game... It was surely unthinkable back in 2011 that David de Gea would go on to earn three successive Player of the Year awards and become known as one of the world's greatest goalkeepers.
Man Utd on verge of Perisic deal
After Edwin van der Sar hung up his gloves United were left looking to fill a gap which they had previously struggled with following the departure of Peter Schmeichel in 1999. But whereas the additions of the likes of Mark Bosnich, Massimo Taibi, Fabien Barthez and Tim Howard had all gone a various shade of sour, in De Gea they found the answer at the first attempt.
Considering his standing in the game today and his still relatively young age in goalkeeping terms, United could easily demand £100m for him should he wish to move on. Have you got that, Florentino?
---
RIO FERDINAND | From Leeds | £33.3m (€51.9m) | 2002
---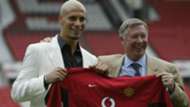 The most expensive player in British history for a second time upon arriving at Old Trafford, there was no wonder Rio Ferdinand thought he might be able to get away with that suit! One year after Sir Alex had made a questionable splash on Juan Sebastian Veron, this move brought long-lasting rewards.
Over the next 12 years he became an indispensable member of the United setup, forging a sensational defensive partnership with Nemanja Vidic. His elegance at the back was untouched, and his pace regularly got United out of tough spots.
With 455 appearances for the Red Devils and another 81 for England, Ferdinand was a truly generation-defining defender in the English game.
---
ROY KEANE | From N.Forest | £3.75m (€4.9m) | 1993
---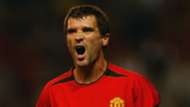 It seems to be a common theme through Manchester United's recent history that every time they break the British transfer record there is a collective snort elsewhere in the game. When Roy Keane was snapped up from Nottingham Forest to beat Alan Shearer's previous mark of £3.3m there were some who doubted whether Ferguson knew what he was doing.
What followed was one of the most captivating relationships in British football, with Keane and United becoming bywords for excellence. After Cantona's early retirement, there was never any doubt who was going to be named as United's new skipper given his deep desire to give nothing less than 100 per cent in every moment of every game.
His absence from the 1999 Champions League final due to suspension was the greatest disappointment of his career, but it was fitting that his brand of unstinting commitment and never-say-die tenacity was displayed by his team-mates on that famous night in Barcelona.
---
DENIS LAW | From Torino | £115,000 (€319,000) | 1962
---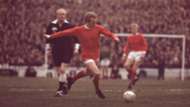 Another British record, another minor furore, another major statement of a United career. The Lawman came to Old Trafford from Torino, who had themselves paid a record fee to sign the attacker from Manchester City. He left 11 years later destined to be remembered as one of the greatest forwards in the club's history.
His partnership with George Best and Bobby Charlton became known as the Holy Trinity, and the trio were immortalised in bronze outside Old Trafford in 2008 — such was their impact on the club in the aftermath of the Munich air disaster. Perhaps the greatest Scottish footballer of all time, he was not only a great finisher but also had the skill on the ball to create goals too.
Only Charlton and Wayne Rooney scored more goals for Manchester United than Law's 237. At £115,000 that's less than £500 per goal!
---
BRYAN ROBSON | From West Brom | £1.5m | 1981
---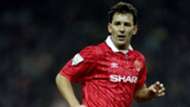 "You've got to pay for quality... He's gold dust," said Ron Atkinson when laying out £1.5m for Bryan Robson in 1981. The comment came after seemingly endless talk about size of the transfer fee involved for a midfielder, which was unheard of at the time. "I don't really feel I've got a need to justify it," continued Big Ron, stung by the questions regarding the cost of a footballer in difficult economic times.
Robson went on to become United's Captain Marvel, the icon of the club as it slowly awoke from its decades of slumber and became a giant once more. While his display in the 3-0 win over Diego Maradona and Barcelona in 1984 stands out as maybe the greatest game of Robson's career, there were countless others in which his drive, leadership and can-opener of a left foot were decisive.
While he was by no means at the height of his powers by 1993, it was fitting that Robbo remained at United long enough to lift the inaugural Premier League trophy. Few players had had such an effect on the club during the lean years which preceded their return to greatness.
---
RONALDO | From Sporting | £12.24m (€17.3m) | 2003
---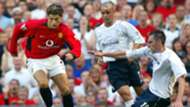 "I remember speaking to the manager and saying, 'Are we going to get this guy? Who is he?" remembers Ferdinand. "He said, 'Listen, I'm working on it. Don't worry.' We were waiting for an hour and a half after the game. Then the manager comes back in and said: 'I think I've got him.'"
The guy in question was Cristiano Ronaldo, and the then-18-year-old's magnificent performance in Sporting Lisbon's 3-1 friendly win over Manchester United had persuaded Sir Alex to make his move. Six years, 292 games and 119 goals later, Ronaldo was an £80m asset heading for Real Madrid.
In between times, Ronaldo was the spark behind another incarnation of Ferguson's all-conquering United empire. It was at Old Trafford that he truly developed into the star he is today, and he remains loved by the Stretford End to this day. Few players who leave the Theatre of Dreams in the hope of seeking greater successes elsewhere are afforded the hero status Ronaldo enjoys.
---
WAYNE ROONEY | From Everton | £27m (€40m) | 2004
---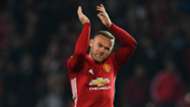 "It's a strange twist of fate that if Newcastle hadn't come in for him he wouldn't be here, he'd probably still be at Everton," said Sir Alex, memorably, of Wayne Rooney. "Once we knew Everton were talking to another club we had to do something. We didn't think he was available."
Neville: Rooney great for Everton
The £27m outlay on an 18-year-old was an eye-raiser for some but Rooney was clearly destined for great things, and his 253 goals over the next 13 years would more than justify United's decision to usurp Sir Bobby Robson's Magpies and bring Rooney to Old Trafford.
His consistency in front of goal made him a fixture for the vast majority of his United spell, and it came as no surprise when Louis van Gaal handed him the captaincy in 2014. By the time he returned to Everton this summer he had become the greatest goalscorer in Manchester United history for little more than £100,000 per goal.
---
PETER SCHMEICHEL | From Brondby | £625,000 | 1991
---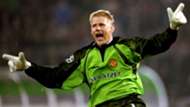 In many ways, Peter Schmeichel made modern goalkeeping what it is today. The first colossus in the post-backpass era, Schmeichel commanded his penalty area and beyond during his eight years as United custodian.
The Great Dane was not one to suffer fools gladly, and he was never shy in showing up his team-mates if he felt it necessary too. As a leader and an example from the back, Schmeichel could not have been more impactful. His bellowing holler and star-jump saves were an emblem of United's rise to the top.
It was fitting that his final act as a United player was to lift the European Cup in 1999, and while he did later turn out for Manchester City and claims to only be the second-best goalkeeper in his family behind son Kasper, Peter Schmeichel remains one of the game's most iconic goalkeepers of all time.
---
OLE GUNNAR SOLSKJAER | From Molde | £1.5m | 1996
---
When he first arrived at Old Trafford he was Ole Who? By the time he left, he was adjudged to be one of the greatest strikers of the Premier League era despite standing behind only Ryan Giggs in United's all-time list of substitute appearances.
While only 29 of his 126 goals for United were scored off the bench, it was his ability to affect games on a knife-edge that will be remembered most about his time at the club. His Champions League winner at the Camp Nou in 1999 ensured his place in United history, but it was a path well trodden by then thanks to his ability to regularly make a difference late in games.
His ability to play all across the front line and still find the ball in the right place at the right time helped to gain him the moniker of the 'Baby-Faced Assassin' and it would be hard to argue against Solskjaer being one of Ferguson's shrewdest signings.
---
JAAP STAM | From PSV | £10.6m (€16.3m) | 1998
---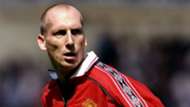 The fact that Ferguson singles out the sale of Jaap Stam as one of the great errors of his managerial career says much about the Dutchman's impact on Manchester United.
Few would have mentioned the word 'bargain' when Stam was signed for £10.6m in 1998 but by the time Ferguson decided to let him leave for Lazio in 2001 it was clear that United had more than got their money's worth in one of the game's leading centre-halves of the last 20 years.
As ferocious and uncompromising as he was talented, Stam provided just the sort of presence United had been lacking in the heart of their defence. And it showed as he became the rock around which the Reds formed their Champions League-winning side in 1999. In the modern market, Stam would arguably be worth 10 times what they paid back in 1998.
---
RUUD VAN NISTELROOY | From PSV | £19m | 2001
---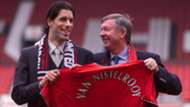 To many it was a risk when Sir Alex spent £19m on Ruud van Nistelrooy in 2001. Only 12 months earlier the Dutchman had failed a United medical hours before suffering an ACL injury which would sideline him for most of the following season for PSV.
But Ferguson saw enough in Van Nistelrooy to go ahead with the deal one year later, and the rewards were practically endless. The deadly striker found the net 150 times in only 219 games in the red shirt, including 15 goals in a 10-match Premier League run — bettered only by Jamie Vardy in 2015-16.
Few strikers have been such a dead cert in front of goal as Van Nistelrooy, and while he might have won only one Premier League title with the club, his goalscoring exploits will take some matching. Not bad for a '£19m crock'.
---
NEMANJA VIDIC | From Spartak | £6.8m (€10m) | 2005
---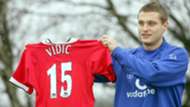 It says much that whenever the wisdom of spending big money in the January transfer window is questioned, the signing of Nemanja Vidic and Patrice Evra in 2005-06 is held up as proof that it can work out.
The big Serb was snapped up ahead of the January '06 market, and while it took him some time to find his feet he would go on to become one of the stand-out players of Ferguson's entire United career. His fearlessness and uncompromising attitude summed up Ferguson's football, and it made sense that he be handed the captain's armband in the manager's latter seasons.
With Ferdinand, Vidic formed perhaps the greatest centre-back partnership of any club in the Premier League era, and he is one of those players whose price tag was quickly forgotten thanks to his consistently excellent performance levels.