Sergio Agüero
Man City striker Aguero clashes with fan after Wigan defeat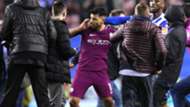 Sergio Aguero was involved in a post-game clash with a fan which involved a shove and a shouting match following Manchester City's shock 1-0 FA Cup loss to Wigan Athletic.
Following the victory for the League One outfit, the DW Stadium faithful rushed onto the field to celebrate their club's monumental upset.
One of those fans made contact with Aguero, who shoved him off, though the Argentine needed to be restrained as he engaged in a shouting match with the fan, with multiple coaches, players and supporters coming between them.
It proved to be the flashpoint amid ugly scenes after the final whistle, with City fans shown to be throwing objects at police as the home fans rejoiced in knocking out a third successive top-flight opponent in the competition.
City were put in a difficult position in the contest, thanks to a red card Fabian Delph in stoppage time of the first half, which left manager Pep Guardiola fuming.
However, it still took a bit of magic from Wigan striker Will Grigg to seal the deal, with the Northern Ireland international netting in the 79th minute to give his side the shock advantage, which held until the final whistle.
Wigan fans ran onto the field after the final whistle, and one made contact with Aguero, causing the striker to swing his arm to push the fan away. 
He then was momentarily held back by Wigan's Cheyenne Dunkley before charging toward the fan. Another supporter got between them, while a City player pulled back Aguero.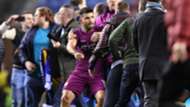 Aguero ducked away, while more people came between the two. Both he and the fan appeared to be shouting at one another. 
It was only City's third defeat of the season in all competitions. Previously they had lost a meaningless Champions League group stage game against Shakhtar Donetsk, with only meaningful defeat prior to Wigan a 4-3 setback at Anfield to Liverpool. 
The loss ends Manchester City's hopes of achieving the quadruple this season. They can still pull off the treble though, as they remain 16 points ahead of rivals Manchester United in the Premier League, are in the final of the Carabao Cup against Arsenal and have a commanding 4-0 lead in their Champions League last 16 tie with Basel.