FA Cup
Nasir planning to finish the job in Ipoh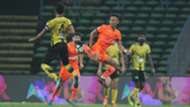 The encounter at Shah Alam Stadium was a feisty affair and on another occasion, both teams could have very well ended the match with less than 11 players on the pitch.
PKNS won the first leg of the two-legged tie 2-1, in a match that could have boiled over any time with strong challenges flying in throughout the match. 
Early on, Leandro dos Santos was involved in a tangle with Jonathan Acosta and it became a running theme for most parts of the match, involving multiple individuals.
For Perak's captain Nasir Basharuddin, he admitted that it was a highly charged match, the occasion and the prize of a semi-final appearance got to some of the players.
"This game is an important. Players all want to achieve the target and we put all our focus on it. So when things didn't go our way, naturally it affected our emotions."
"If it was 2-0, then maybe difficult. But at 2-1, it just made things slightly easier when we go back to Ipoh. Of course, playing in our sacred stadium is a big motivation for us in the second leg," Nasir told Goal.
Despite PKNS actually winning the match, it can be seen how vital the late penalty goal converted by Gilmar Filho, was to the Perak team. 
In fact, the Red Ants were the ones looking a bit downtrodden after the match while Perak players seemed more pumped up and celebrated rather voraciously with a strong Perak attending fans at the away ground.
However, Nasir refused to call the tie over and said that the players were merely putting an appreciative side to their adoring fans who turned up in big numbers for the clash.
"Some came from Ipoh, some from here. But they were all here for us and we just wanted to appreciate them," added Nasir.
Perak Stadium has not yet been used this season and is yet to be approved by Football Malaysia LLP but indications are, they will pass the test that will be done in the coming week. 
The anticipated return leg in Ipoh on April 21, is already looking like a must watch.