Liverpool
Liverpool's creaking squad must take care of business before dreaming of Champions League glory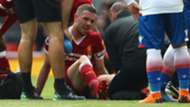 As they dream of the impossible, Liverpool must also contemplate the unthinkable.
Champions League glory may be on the agenda at Anfield but their place in next season's competition is not yet secure. Forget Real Madrid, the Reds have a cup final at Stamford Bridge on Sunday first.
Defeat to Chelsea would leave the door open for Antonio Conte's men in the race for the top four. Liverpool had looked home and dry a few weeks back, but back-to-back draws with West Brom and Stoke arrived at an inopportune moment. Their position of strength has been weakened.
They remain favourites, though. Avoid defeat on Sunday and Jurgen Klopp's men, thanks to their superior goal difference, are home and dry.
Lose to Chelsea, though, and the drama continues. Liverpool secured Champions League qualification by beating Middlesbrough on the final day of last season; they would rather not have to do the same against Brighton at Anfield this time around. Chelsea, who have a game in hand to play, against Huddersfield on Wednesday, will be looking to crank up the pressure.
These are testing times for Klopp, whose squad is being pushed to its limit – in part thanks to its own achievements. Liverpool got the job done in Rome in midweek, but they look a team that is one injury away from a crisis. How much do they have left in the tank?
They are already without Joel Matip, Emre Can and Alex Oxlade-Chamberlain. Adam Lallana is back training but miles from match fitness, while Joe Gomez missed the trip to Italy.
Klopp's options are limited at the most critical of times; his team must simultaneously cautious yet fully committed. The manager insists that there is no chance of prioritising – "the most important game of my career is Chelsea," Klopp told his press conference at Melwood on Friday. He meant it.
With three weeks until the Champions League final, Liverpool at least have time on their side. A look at their bench in Rome, though, lays bare the problem; the Reds' three substitutes on the night were Ragnar Klavan, the fourth choice centre-back, Nathaniel Clyne, who has started one game all season, and Dominic Solanke, a striker who is yet to score for the club in 25 appearances. Unused were Simon Mignolet, the goalkeeper, Alberto Moreno, Danny Ings and Ben Woodburn.
"Do different line-ups with my squad?" Klopp challenged a reporter on Friday. "Do it and bring it over! How could I pick different teams? Not possible!"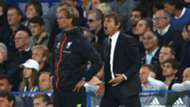 Depth, as it so often has been, is an issue which Liverpool must address. Klopp has done brilliantly to assemble a team capable of challenging Europe's best, but to do so consistently he needs greater quality in just about every area - and Champions League football, of course, will help that quest. It would be sad to see the club's progress halted by a couple of injuries in a couple of areas.
Chelsea, by contrast, have a virtually full squad to choose from ahead of Sunday's game. They are not necessarily a club to aspire to – their recruitment in recent seasons has been dreadful, while they look set to change manager once again this summer – but when the likes of Alvaro Morata, Willian and Pedro could be sitting on their bench this weekend, the scale of Liverpool's task is clear.
Liverpool have won at Stamford Bridge in each of the last two seasons – only Blackburn have ever won three in a row there during the Premier League era – but they'd take a draw this time around, make no mistake. 
Klopp will ask for one more push from his players and their tired legs. Then, and only then, can thoughts turn to Real Madrid.