Liverpool
Liverpool concede 1000th Premier League goal in poor start against Tottenham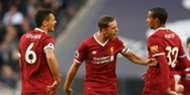 Liverpool's start against Tottenham could not have been much worse and to add insult to injury, they made a bit of unfortunate history in the process.
Harry Kane and Son Heung-Min scored in the first 12 minutes of the contest to quickly put Spurs up 2-0 against the Reds at Wembley.
In addition to falling into a massive hole so early in a game against a top-four and title contender, that disastrous opening also saw Liverpool concede their 1000th Premier League goal in the process when Kane gave Spurs the lead.
Kane's goal was the 1,000th Liverpool have conceded in the Premier League#LFC are the 6th team to concede that many#TOTLIV

Via @OptaJoe pic.twitter.com/0i1rtm30P5

— Omnisport (@OmnisportNews) 22 de octubre de 2017
Liverpool have now conceded 1000 Premier League goals.

Unconfirmed reports Dejan Lovren was at fault for 999 of them! #LFC pic.twitter.com/0YMuy7o7QS

— Goal (@goal) 22 de octubre de 2017
Dele Alli's strike just before half time sent Spurs into the break 3-1 ahead, and took Liverpool's total goals conceded in the Premier League to 1002.
There is a sizable gap between Liverpool and the next highest team, Newcastle, who have conceded 1148 times. Next up are West Ham on 1163.
One team that won't be adding to their tally soon are Aston Villa, next on the list with 1186, but mired in the Championship at the moment.
Everton are in second, having conceded 1225 times, with the latest five coming in a 5-2 heavy defeat to Arsenal.
Interestingly enough, Tottenham have conceded the most of any team in the Premier League. Spurs have given up 1237 goals — the latest coming on Sunday when Mohamed Salah briefly brought Liverpool back within a goal in the 24th minute.