Manchester United
Lindelof accepts Man Utd competition as he lives the 'dream'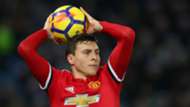 Victor Lindelof admits to living "a dream" at Manchester United and is accepting of competition for places at "one of the biggest clubs in the world".
The Sweden international defender moved to Old Trafford in the summer of 2017, with life at Benfica traded in for that at the Theatre of Dreams.
Adjusting to the demands of a Premier League stage has not been easy, with Jose Mourinho having eased the 23-year-old into his plans following a testing opening to his debut campaign.
Lindelof has, however, improved as the season has progressed and is happy with his development at a club he always hoped would give him a chance.
He told Sky Sports ahead of a possible outing against Crystal Palace on Monday: "Coming here to play at this great club has been a dream for me since I was a kid, so yeah - I enjoy it every day.
"I wake up every day and I'm very happy I get to come here and do what I love. I don't take anything for granted, I work hard every day.
"I'm just trying to do my best every day, work hard and improve. When you're given the chance to play, it's always nice to be out there and help the team, and I'm just happy to be out there doing that.
"We have world-class players in every position and I think that's very important to have. This club is one of the biggest clubs in the world, so you're obviously going to have that."
Lindelof has made 23 appearances this season, although only eight of those have been Premier League starts.
He admits that the English top-flight has been something of an eye-opener for him, with the standard considerably higher than that he experienced while impressing in Portugal.
"Every game is difficult here," Lindelof added, with United looking to wrap up a runner-up finish this season.
"Every opponent is going to work hard, fight for 90 minutes to try to get three points, and that's what makes the Premier League such a good league, the level of competition. It was a bit different in Portugal, we had only a few big games during the season.
"We want to win as many games as possible and of course, you always want to come first. But if not, second is there, and that's what we have to work for.
"We're improving as a team every day. It's important for us to play a lot of games, and just keep going."