Opinion
Leicester move marks fresh start for Kelechi Iheanacho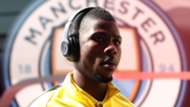 ---
COMMENT    By Solace Chukwu    

Follow on Twitter
---
There is a sense in which Kelechi Iheanacho's transfer to Leicester City, now finalized for £25 million (the record for a Nigerian footballer), is both redemptive and a hard reset, a necessary do-over in a career that had begun to stall. Yet, did it ever truly begin at Manchester City?
It has been almost four years since he took the Under-17 World Cup by storm, and three since he opted to move to the Etihad Stadium. There was no shortage of suitors, and presumably he made his choice in the belief that his interests would be best served in the blue half of Manchester.
That has not, however, been the case.
His promise is very real, and like the proverbial goldfish, his gleam remains impossible to miss, but no one would argue that his decision has been resoundingly justified. The player has shown good faith, submitting to the club's conception of his profile and role, morphing into a pure centre forward. He has also risen to every challenge, showing his worth both with the Elite Development Squad, and in cameos with the first team.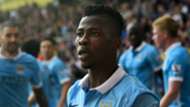 That faith has not been roundly repaid.
It is almost amusing that City signed a multifaceted attacking all-rounder, turned him into a poacher, and then have turned around to bemoan the fact he isn't the player they signed.
Kelechi Iheanacho | 2016-17 stats
That is, after all, the crux of the matter: Gabriel Jesus' ability to operate all across the frontline has installed him a favorite of manager Pep Guardiola, and Sergio Aguero is having to learn new tricks at the age of 29. It is Iheanacho, at 20, who is the odd one out, unable to adapt to the breadth of functionality that the former Barcelona boss demands.
He will face something of a culture shock at Leicester, not in terms of personnel (Ahmed Musa and Wilfred Ndidi will be sure to make him feel welcome) but in terms of playing style.
It is unclear quite what Craig Shakespeare has in mind–reportedly, the plan is to pair him with Jamie Vardy upfront.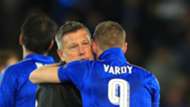 If so, the Foxes have the right idea, but their more direct style – Leicester played the fifth fewest passes in the entire league last season, and had the fourth lowest percentage of possession (45 percent) – will be a stark departure from what was obtainable in Manchester, both under Manuel Pellegrini and, latterly, Pep.
Shinji Okazaki's successful double act upfront with Vardy relied heavily on the Japan international's selflessness and work ethic without the ball. Leonardo Ulloa and Islam Slimani, the latter apparently being the man Iheanacho arrives to replace, offered menace in the air. Neither of these qualities are innate to the Nigeria international: even at 6 ft 1, he shies away from aerial duels (won four last term, 16 per cent of his attempted total), and he lacks the work rate needed to hassle and harry.
So, if there is no stylistic similarity between Iheanacho and what has proven to work at Leicester, and the club's style is a thorough departure from what he has had to learn at City, in what sense can this move be considered any more prudent for his development?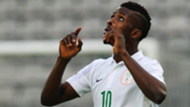 The answer to that requires a deeper dive, to a time before City, a side of Iheanacho that has fleetingly roared to life at the Etihad. Leicester are very much a side that eschews possession to play on the break, and it is as a vital cog in Nigeria's fluid counterattacking side in 2013 that Iheanacho rose to prominence in the United Arab Emirates.
There have been glimpses of his proficiency in this approach at City, notably in the victory last September over Bournemouth, but Pep's sides routinely enjoy less space to canter into.
With Leicester, this is not the case.
It is clear then that, rather than seek to round out the player, Shakespeare is more likely to focus on his strengths. A trade-off in defensive rigour from the front is inevitable, but it would almost certainly bring out the best in Iheanacho.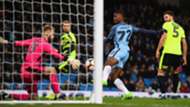 The one question left to ponder then is City's insistence on a buyback clause. Reportedly, this was something of a deal-breaker, understandably, for other interested clubs. If City are moving him on due to his inability to adapt to their style, and he is unlikely to improve in that regard playing for Leicester, of what use then is the buyback arrangement?
It is safe to assume that, so long as Guardiola remains in charge at the Etihad, there is no future for Iheanacho there. More likely is that the clause is to protect the player's resale value, in much the same way as Real Madrid did for Alvaro Morata.
Iheanacho may be departing with a whimper, but it would not be a stretch to see him treading a similar path to the new Chelsea forward a couple of years down the line, and commanding an even bigger transfer fee when he moves on from the King Power. The sheer talent, so far shorn of opportunity, is certainly there.