Simba
Lechantre: Simba have squad depth to compete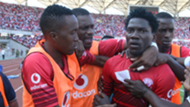 Simba's Head Coach, Pierre Lechantre has claimed that he has a big squad that can be rotated in any game without problems.
Speaking from Morogoro where Simba have camped for a training base before facing Mtibwa Sugar on Monday, Lechantre said that, they have more than one player in every department so when some players are  sidelined due to any reason, the team will not struggle.
"We have a lot of good players in every department, so to miss some of the players in a certain game is not a big deal" said Lechantre.
Simba are preparing to face Mtibwa Sugar without Erasto Nyoni, James Kotei and Juuko Murshid who were shown second yellow cards in their 2-0 victory against Njombe Mji on Tuesday.
However, the return of Salim Mbonde, Haruna Niyonzima and Jonas Mkude who were all out injured will be a welcome boost ahead of the game.