Ghana
Kuffuor happy with Caf's decisions on Afcon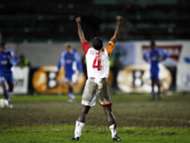 Former Ghana defender Samuel Osei Kuffour says Caf made a good decision to increase the number of participants at the Africa Cup of Nations from 16 to 24 teams.
The tournament has also been shifted from January to June / July and will continue being hosted on African soil, as opposed to suggestions by a section of the executive committee members to organise it on other continents.
"I think the decisions taken are good. It is going to help countries to prepare well for the competition," Kuffour told TV3.
"It is going to help organisers and host countries to improve in infrastructure for the tournament when they are picked to host it.
"Most times, countries do not prepare well to host the competition because the time is too short, two years. But with this new amendment, it will help the teams to prepare very well and we will see a good competition henceforth unlike before," he added.
Cameroon will be the first country to host a 24-nation Afcon in 2019.
Goal understands that Morocco are ready to take over from Cameroon should they fail to accommodate the 24 countries expected to honour the first edition following the new directives.