KPL
KPL: Leopards to blame for use of 'substitution paper'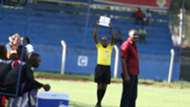 Kenyan Premier League Limited have clarified on who is responsible for providing substitution boards during matches.
On Wednesday, when AFC Leopards hosted Ulinzi Stars at Machakos County stadium, a marked piece of paper was used to substitute players, a thing which left fans and stakeholders surprised and wondering.
Goal has sought for clarification from the league managers over the incident and a top official, who requested to remain anonymous, has explained that any equipment including substitution boards belong to stadia owners asserting that Machakos County Stadium management should have availed a proper board.
AFC Leopards 0-0 Ulinzi Stars: Soldiers hold Ingwe
He went ahead and explained that home team, which in this case is AFC Leopards, must ensure that all equipment meant to facilitate the match is put in place.
"Rule 3.5 Match Arrangements (a) Condition of Field: The home club is responsible for ensuring the field and field equipment are in reasonable condition for the match. The home club must install suitable goal nets and provide at least two footballs suitable for use in the match."
"The rule simply means that AFC Leopards are to blame for allowing the use of a paper instead of a wooden or electronic board as required by the law. It is clear that the stadium has the equipment because they were recently used during Kenya's matches against Uganda and DR Congo," he told Goal.
Our effort to reach AFC Leopards Chairman Dan Mule for a response on this bore no fruit as our call went answered.