A-League
Kim Jae-sung wants Adelaide contract extension
Goal Australia Chief Editor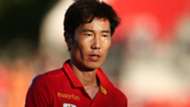 Adelaide United midfielder Kim Jae-sung hopes to stay with the A-League club next season and has claimed living in the South Australian capital has helped him relax.
Kim has made 11 appearances for Adelaide in the A-League and AFC Champions League (ACL) since joining the club in February, and is set to make his fifth straight start in the continental competition when the Reds visit Gamba Osaka on Tuesday.
Speaking to Goal after Adelaide's 3-1 win over his former club Jeju United earlier this month, Kim explained he was proud to have made an impact on the Reds' 2016-17 campaign.
Adelaide won the premiership-championship A-League double last term but failed to win in the first eight rounds this season to eventually finished second-last.
Gamba Osaka - Adelaide United Preview
"Adelaide are having a slow season with less victories than expected with only six victories," Kim said.
"After I joined I was part of four victories from the total six. Every time we win is a memorable moment. I want to always be of help to my team which is why I joined.
"I was hoping to be a positive influence to the team and a victory is the most exact proof of my role.
"It always makes me happy when I hear Adelaide fans tell me to stay in the team after the season is over and to be part of the team until next year. I would like to be part of the team next season as well."
The 33-year-old added: "Adelaide is a very quiet and cosy city with people who are easy going and this is making a difference with reducing my stress levels.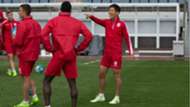 Kim Jae-sung, Adelaide United
"When I go to the team, I concentrate only on the training but on my spare time I am enjoying my time with my wife by visiting the many parks and enjoying the amazing weather."
Kim's contract with Adelaide expires at the end of June, with the former South Korea international having spent the rest of his career in the K League's top two divisions.
Adelaide sit second in Group H in the ACL with two games remaining and a win against Gamba would put them on track to qualify for the knockout stages.
Kim scored his first goal for the Reds in their breakthrough win against Jeju a fortnight ago but his celebrations were subdued after striking the opener in the 3-1 triumph.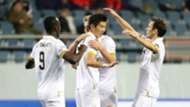 Kim Jae-sung, Adelaide United
"It all happened very quickly. As soon as I saw that I scored I considered in doing a celebration and my body was reacting to it but at the same time my mind completely controlled my actions," he said.
"This was the right thing to do. My team-mates were running towards me and were celebrating but I couldn't react."