PSL
Khoza: Orlando Pirates' support structure around the technical team could change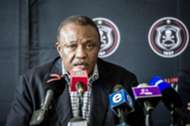 Orlando Pirates chairman Dr Irvin Khoza admits there has been an investigation done on the issue of 'Player Power' that's been circulating at the club.
"The report is there, and it's almost complete. It's obviously an internal document with some of the things that we have got to deal with," Khoza told TimesLive.
"Sooner or later there will be a big announcement in the country to take into account some of those things that we have learnt at Pirates, which we are sharing now with our colleagues in the league," Khoza said.
The Bucs supremo did, however, admit to problems in and around structure of the technical team, hence the need to change its stall.
"Unfortunately nobody has ever come out on the impact of what our travel on the continent has done to the players," he continued.
"Having won the treble back-to-back, then been in four finals internally, and a further two on the continent, and the travelling (involved) has its own effect on the players. And that's why we are looking now at how to renergise the team," Khoza said.
Serbian coach Milutin Sredjevic was appointed new Pirates head coach on Thursday - replacing Swedish trainer Kjell Jonevret.
Bucs technical director Stanley 'Screamer' Tshabalala' has been speculated on as a source of disruption and complication to a coach's job.
"If there are issues that we have learnt, that needs to be improved on in the technical team and around it, we are making a serious effort in making sure that we correct some of the issues that we have identified to reinforce some of the areas around the technical team," Khoza concluded.