Premier League
Kenichi not blaming goalkeepers for Aduana Stars drubbing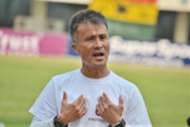 On a matchday when Ebusua Dwarfs coach Bashir Hayford descended heavily on goalkeeper Frank Andoh for "gifting" two goals in their 3-0 defeat to Karela FC, Inter Allies boss Kenichi Yatsuhashi has taken things rather calmly despite watching one of his shot-stoppers concede two times and a red card and another let in four goals in Sunday's 6-0 drubbing at the hands of Aduana Stars. 
The Eleven-Is-To-One endured a tough time away at Dormaa as goalkeeper Kwame Baah was sent off in the 21st minute, forcing the Japanese to bring on second-choice Salifu Saed, before the Fire Boys added four more goals. 
Nonetheless, Kenichi is singling no one out for their crash: "The fault should not solely be put on the goalkeepers but playing with a man down [was] really a difficult task for us. 
"One could realise that we were faring well at the beginning of the game until we were reduced to 10 men. 
"Aduana Stars are a very good side."
Rather, Kenichi has nothing but compassion: "He [Baah] was very upset and l understood him as he was very emotional. 
"Nobody is happy about him getting a red card but l once again understood how he felt at the moment he received his marching orders in the game."
And Saed?
"l don't think he underperformed as he made a perfect save on that penalty shoot awarded to them, [Aduana]," Kenichi said about Saed, who saved a 40th minute penalty.
"The rest of the goals were all straight forward goals he couldn't do anything to avoid them prior to his red card offence. 
"In football if keepers are not protected by their defenders it becomes impossible to save all the shot."
Allies, who sit seventh on the league table, host 2015-16 champions Wa All Stars in their next match.