Mtibwa Sugar
Katwila: We want to build a good momentum from here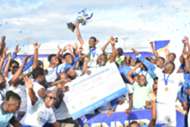 Mtibwa Sugar Head Coach, Zuber Katwila has revealed that he wants to use their FA Cup win to build the team's momentum.
The Morogoro based side have won the FA Cup after beating Singida United 3-2 in the final which took place at the Sheikh Amri Abeid stadium, Arusha on Saturday.
Speaking after the match, Katwila said that the win is for everyone associated with Mtibwa Sugar in Morogoro and outside the region.
He added that, "We have waited for this chance for many years, I think this will be a starting point and we will build a good momentum from here"
Salum Kihimbwa, Issa Rashid and Ismailly Mhesa were the goal scorers in the famous victory while Salum Chuku and Tafadzwa Kutinyu got on target for Singida United.