Leopards
Kateregga welcomes new signings to AFC Leopards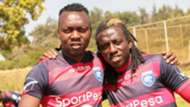 AFC Leopards winger Allan Kateregga is a delighted man after Yakub Ramadhan extended his stay at The Den.
Yakub has signed a contract extension of two years that will see him play for Ingwe until 2019. Kateregga has now taken to social media to welcome the new development terming his compatriot from Uganda as a tremendous talent.
AFC Leopards defender pens contract extension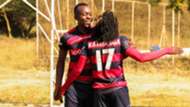 Kateregga also welcomed Ingwe's new signings to The Den ahead of 2017 season kick-off. The Ugandan wrote; "Congratulations on your new contract Yakubu Rama. You have tremendous talent and Potential and I am confident in your ability to repeat this success when we bid for our next account, I hope you view this success not only as a part of your job, but also as the personal victory it is, keep up the good work. So help you God. To the new Team mates, Welcome to AFC Leopards, looking forward to a great season. #Ingwe #KHA10JE #CHUI5
AFC Leopards have already announced a number of signings among them goalkeeper Gabriel Andika from Western Stima.