Goal United
Kante's nightmare has become a fairytale - Leboeuf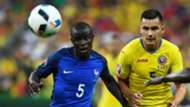 France great Frank Leboeuf has described N'Golo Kante's remarkable rise to prominence as a "nightmare that has become a fairytale".
Kante has morphed from a relatively unknown quantity into one of the stars of Leicester City's Premier League triumph and a key cog in Didier Deschamps' France squad.
The 25-year-old, who put in a strong display against Romania in France's Euros opener, is looking to emulate Leboeuf by helping Les Bleus win the European Championships on home soil this summer.
And Leboeuf has lauded Kante as a "fantastic" player and says it is a shame that the midfielder is only now just coming to light.
"I have followed his progress since he signed in England," Leboeuf told Goal. "It is kind of a nightmare that has become a fairytale. How come we didn't see his qualities before he signed for Caen and then Leicester? 
"I know it was hard for him, it was completely unfair but now he is there and now I can't see him letting it go.
"Every time he plays, he is fantastic. He has three caps with the national team, in three caps they ran a poll in France, asking if Kante should be in the first eleven and it was close to 95 percent. He seduced everybody in a second, with his charisma but also with his football."
Former Boulogne and Caen man Kante signed for Leicester for just £5.6 million last summer and has since been linked with a move to one of European's top clubs following his impressive displays for club and country this season.

Kante's family live just 300 yards from Leboeuf's house in France and the ex-Chelsea man - who still travels to London to watch his former club - thinks that he would be a perfect fit at Stamford Bridge.
"That would be great, he already has a blue shirt but he can get a better one," he added. 
"He is part of the new generation alongside Lassana Diarra, in a similar role to Claude Makelele beforehand. They are the same kind of players and absolutely fantastic. He is a fantastic player, rarely have I seen a player who has seduced me like that and his future is really bright."
Kante has reportedly received offers from a number clubs but has insisted that he will not make a decision on his future until after Euro 2016, with Chelsea and Paris Saint-Germain thought to be two of the clubs interested in his services.
Goal journalists are powered by the Samsung Galaxy S7 and Gear 360 - Leboeuf was speaking to Goal courtesy of ESPN