World Cup
'It is quite heavy, and very shiny!' - Kante explains what World Cup joy feel likes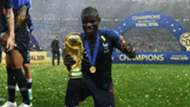 N'Golo Kante has been reflecting on his World Cup win with France, with the Chelsea star taking a childlike joy in getting his hands on football's ultimate prize.
Only a select few get the chance to savour global glory, with the showpiece event staged every four years.
Les Bleus have now lifted the trophy on two occasions, with their class of 2018 having replicated the efforts of a star-studded side 20 years before them.
Kante formed part of that squad and admits he is still savouring every moment of being a world champion.
The 27-year-old midfielder told Chelsea's official website on what it is like to lift the grandest of trophies: "It is quite heavy, and very shiny!
"We all know what this trophy means. It is something you dream of from when you are young.
"To get it in your hands represents a lot, for me, for the people who helped me to be here and the professional that I am, for my clubs. It brings a smile to my face."
While Kante was left beaming on the back of a 4-2 victory over Croatia, a club and international colleague was reduced to tears.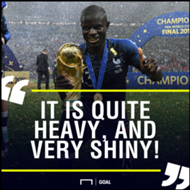 Olivier Giroud was unable to find the target during France's triumphant campaign, but the Chelsea striker did provide a useful physical presence when leading the line.
He is also still coming to terms with what he has achieved.
On his reaction to a memorable showing in Moscow, Giroud said: "I was basically crying!
"I can't explain that moment. When the final whistle blew, you just want to run everywhere, to jump on your team-mates.
"I was on the bench for the last 15 minutes, and I could start to realise what was happening.
"I ran on to the pitch, I crossed Adil Rami and we hugged, and then I stayed maybe 10 seconds on the floor, wondering to myself what had just happened.
"After that I went to enjoy it with my team-mates, but I was basically crying like a kid."
France's World Cup win has carried them to the top of the latest FIFA rankings, while their next outing will see them take in a heavyweight clash with Germany in the newly-formed UEFA Nations League.
That fixture is due to take place on September 6, with Les Bleus facing fellow Group 1 rivals Netherlands three days later.