Manchester United
'It doesn't need words' - Mourinho reluctant to comment on Conte handshake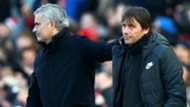 Jose Mourinho said his handshake with Antonio Conte after Manchester United's 2-1 win over Chelsea "did not need words" as the apparent truce between the pair continued after full-time.
Manchester United manager Mourinho has been engaged in a bitter war of words with Conte for much of the season, with their face-to-face meeting at Old Trafford long since anticipated as a result.
But neither man was willing to talk about their feud in the lead up to the game, which saw Romelu Lukaku and Jesse Lingard decide matters in United's favour after Willian had given Chelsea a first-half lead.
And the post-match handshake took place with no further display of acrimony, with Mourinho saying afterwards: "The handshake doesn't need any words.
"That's what me and Antonio want to show to everyone. We are not two ordinary people in football. We have a history."
Mourinho was complimentary of former club Chelsea, while praising his side for finding a way to defeat a team that held Barcelona to a 1-1 draw in the Champions League in midweek.
He told Sky Sports: "We beat a fantastic team, for some reason they were the champions last season, and for some reason they played well against Barcelona, and for some reason they started the game very well.
"So, we beat a very good team, we had to be organised, everybody had to follow the game plan and have spirit. We beat a very good team.
Enjoy that one, #MUFC fans? pic.twitter.com/fD782XbeeE

— Manchester United (@ManUtd) February 25, 2018
"They started very well and when they hit the post, I was looking at my players, what can we do, who can I blame, but it was such a lovely move, we couldn't stop it.
"But we found a way to play against them, and we had a good control of Eden Hazard. Willian is an amazing player and he killed us with the goal.
"But we had more control of the game than them, without creating lots of chances."