ATK v Goa
ISL 2018-19: Sergio Lobera - Nothing much to say when referee doesn't give a penalty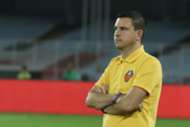 The last time FC Goa played out a 0-0 draw in the Indian Super League (ISL), it was November 2016. In Kolkata on Wednesday, one could say that there were two factors that stopped the Gaurs from getting all three points.

In the 66th minute of the game, Andre Bikey got a hand to Manvir Singh's shot inside the box but referee Rahul Kumar Gupta denied a clear penalty.

"You know, when there is a penalty and it is obvious that the referee doesn't give it, there is not much you can say. I always try to respect the referees and today, it was a very big effort on my part to keep respecting (the referee)," head coach Sergio Lobera shared his thoughts.

On being asked about the overall standard of refereeing, the former FC Barcelona C manager said, "I am not going to speak on that or I will be risking suspension. I have always respected the referees. You'd have never heard of me speaking ill about the referees in the press conference. But if you really need the league to improve, all of us need to improve, the coaches, the players, the referees, everything."

Much is expected out of Ferran Corominas who has scored eight goals this season but he could not make the difference on the night. "For me, as a coach, He did very well. If you analyse as a spectator, if he doesn't score, he had an off day, but for me, he did a great amount of work today. It is difficult to play against a team that have got so many people in their own half.

As a forward, every time he receives the ball, he has seven players around him but today, I think ATK achieved what they wanted to, which was to get a draw. We have a lot of players in the team that score. Coro didn't score in the game against Delhi Dynamos and look at that scoreline.

Bedia, Brandon, Jacki, all are scoring so it is not that we are relying on only one player to get our goals. Right now, we are the best team in the league in terms of goal difference along with Bengaluru", he concluded.