Indian Super League
ISL 2017: Mumbai City FC owner Ranbir Kapoor - 'AFC recognition for ISL a healthy development for Indian football'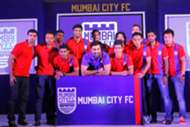 Ranbir Kapoor is one of the biggest names when it comes to Bollywood films but the superstar also is a huge football fan. Not only is he the owner of Indian Super League (ISL) side Mumbai City FC, he is also a part of the celebrity football series which pits Bollywood stars against Indian cricket stars. 
The 35-year-old is thoroughly enjoying his responsibility as a club owner despite his busy film career and is hell-bent on making Mumbai City FC the most professional outfit in Asia within five years. 
Speaking to Goal in an exclusive chat, Ranbir outlined his vision.
"The vision has always been to make Mumbai City FC the most professional club in Asia. I believe that we are well on our way. Be it the players or the technical staff, everyone associated with the club across all three seasons have been very happy and I hope that continues. In five years from now, I hope the club is well on its way to becoming a torch-bearer for Indian football." 
The ISL is only entering its fourth year of existence but the popular league has already gained Asian Football Confederation (AFC) recognition with the victors able to represent the country in the AFC Cup play-offs. Ranbir is elated at the development and has hailed it as a game-changer for Indian football.
"It was something we were hoping for. You cannot be a great club until you play in the biggest tournaments in the region. I am pleasantly surprised that the AFC recognition has come so early into the ISL. It is a nascent and evolving league in a complicated football eco-system and it's heartening to see the progress the league has made in such a short span of time.
"The AFC recognition is a healthy development for not just the clubs but for Indian football as well."
With ISL now a longer league, Ranbir does not think that is likely to increase the operating costs and recruitment budgets for the clubs.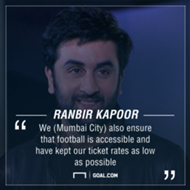 "Contrary to popular opinion, it's not necessary that a longer league will increase costs. Over the last few years, the franchises have learnt how to manage their budgets better," Ranbir elaborated. "With some careful planning and budgeting, costs don't have to increase drastically. For Mumbai City, we have managed to bring a few costs down significantly this year, including player salaries.
"That's an immediate result of the ISL becoming an established property and attracting talented players from all over the world, which wasn't the case in the first season. Also, a longer season means more meaningful activation for sponsors. So whatever increases in costs there may be, we are hoping that will be offset by increased sponsorship and ticketing revenues."
As far as recruitment is concerned, the upcoming edition marks the first time Mumbai City will be going into a new season with the same coach from the last season. Ranbir outlined the reason for sticking with Costa Rican coach Alexandre Guimaraes who guided the team to the semifinals last season. 
"We were extremely happy with the team last year. To have topped the table comfortably and not go below the fourth position at any point of the season was a tremendous achievement. And the person to thank for that was our coach. I am relieved and happy that he decided to come back for this season and the continuity he provides should go a long way in us having a successful season.
"We have also managed to retain the core of the squad and continuity is always welcome, especially when we had little or nothing of that in the first couple of seasons. Why mend something that isn't broken?" Ranbir asks. 
He has always maintained that playing football during his school life used to give him confidence, especially since he did not really excel at academics. He goes on to explain why sports play an integral role in a child's personality development.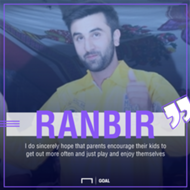 "Football has taught me so much in life, both on the pitch and off it. In fact, this is true for all sports. Sports teaches you values such as discipline, hard work, aggression, being a team player, playing by the rules, sportsmanship, the ability to take winning and losing in your stride," Ranbir expressed.
"These values are critical to excel in the real world. My plea to all kids is to play as much sport as possible. It helps you to be fit, both in mind and body. I do sincerely hope that parents encourage their kids to get out more often and just play and enjoy themselves."
As the talk turned to the motivation for owning a football club, the Jagga Jasoos star spoke eloquently and insisted that it does not hinder his film career. 
"For any football fan - who isn't good enough to play professional football - the next best thing is to own a football club. I am lucky and blessed to be in that position.
"Like any profession, there will be highs and lows, that's part and parcel of life. But I can emphatically say that Mumbai City FC has given me far greater joy than sorrow. Owning the club doesn't hinder my work because I have hired professionals to run the club, professionals who are very good at what they do. I step in when I am required."
Before he signed off, the Bollywood star went on to outline the steps taken by the club to associate itself with the football aficionados in India's commercial capital. 
"I have always said that Mumbai City has never been my club. It's Mumbai's club. We keep that in mind whenever any decisions are taken. We have tried to ensure that the Mumbai City 'brand' is experienced by as many people as possible," he said. "We run ISL's best-run grassroots programme having successfully won that award for two years running. We reach out to over 10,000 children, kit them and get them to experience the joys of playing football.
"We run and manage multiple leagues together with WIFA (Western India Football Association) and MDFA (Mumbai District Football Association). We run train-the-trainers programmes and have football festivals in localities as far apart as Dharavi, Borivali and Thane. Our grassroots programme doesn't just run during the season but is a year-long affair. We also ensure that football is accessible and have kept our ticket rates as low as possible. My idea is for the people of Mumbai to embrace this club and feel for the club at a personal level. 
"The philosophy of the club has always been to give it your best, and not worry about winning or losing. The never-say-die spirit needs to reflect in how we play. And that is also the essence of Mumbai."