Indian Super League
ISL 2017-18: Has the North-Eastern experiment, helmed by Thangboi Singto, paid off for Kerala Blasters?
Ashwin Muralidharan (@AshwinMNair10)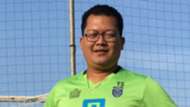 One of the most interesting appointments before the fourth edition of the Indian Super League (ISL) started was that of Thangboi Singto. The Manipuri coach had parted ways with Shillong Lajong after four years and was roped in by the Kerala Blasters as their assistant coach. 
Singto had garnered much appreciation for the work he did with Shillong Lajong, where he was known for promoting and trusting young local players. 
His extensive knowledge of the talent pool in the North-East was expected to be of benefit to the Blasters ahead of the Indian Player draft in July 2017. That was exactly how it turned out with the Men in Yellow picking up as many as eight players from the region which is gaining fame as a hotbed of footballing talent. 
Jackichand Singh, Milan Singh, Siam Hanghal, Lalruatthara, Lalthakima, Samuel Shadap, Pritam Kumar Singh and Loken Meetei were all signed at the behest of Singto who has worked extensively in the North-East and the I-League. 
While Jackichand Singh, Milan Singh and Siam Hanghal were well-known from the previous seasons of the ISL, the rest of the lot were recruited on the basis of Singto's know-how. 
Now, with the season winding down and Kerala Blasters' chances of making it to the playoffs looking a bit tough, a look at how the experiment to tap in to the North-Eastern talent pool went does not paint a pretty picture.
First let's take a look at those players who have made an impact in the first team.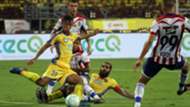 One genuine success story has been that of young Lalruatthara who has performed admirably at the left-back position. He has shown tireless running down the flanks and has even put in a shift as a centre-back whenever the Blasters have played a three-man defence. He has gone from strength-to-strength and look a bright prospect for India, not just the Blasters. But the silver lining to Blasters' experiment sadly ends there. 
Jackichand Singh, a seasoned veteran, has been a regular fixture on the right wing for the Blasters and has two goals to show for his efforts including a stunner from outside the box against FC Pune City. He also has two assists to his name in 14 appearances but one feels his deliveries from the wing have left a lot to be desired.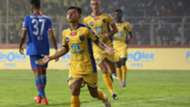 Midfield has been a concern for the Blasters throughout the season with the likes of Courage Pekuson and Dimitar Berbatov being deployed there. Milan Singh and Siam Hanghal both from Manipur, have flopped in those positions but have continued to feature for the Blasters because of a lack of better options. It also has not helped them that Keziron Kizito has been sidelined with injury.
Lalthakima and Samuel Shadap have not managed to break in to the defensive lineup of the Blasters despite Rino Anto suffering an injury midway through the season. Pritam Kumar Singh, unfortunately, suffered an injury and is currently spending time on the treatment table. 
Loken Meetei has featured sparingly as a late substitute in games and has hardly made an impact. 
Upon introspection, the decision to build an Indian core with predominantly North-Eastern players has not worked wonders for the Sachin Tendulkar co-owned franchise. It has thrown up a few bright spots but Kerala Blasters do not have the luxury of building a squad again. 
They have to sign players directly now but with most good players on multiple-year contracts at other clubs, their options might be a bit limited. 
Whether a football mad state deserves more local players into the first team is something which needs to be addressed. Goa and NorthEast predominantly sign players from their region and only when they cannot find an alternative that they sign a player from other regions.
In Kerala's case, apart from Anto and Vineeth, the rest have been bit part players. Whether we shall see more local talent from Kerala making the cut remains to be seen. 
When Singto was appointed, the idea should have been to utilize his know-how in youth development and grassroots and replicate the model in Kerala as opposed to just picking players from the North-East. That job can be done by just about any coach in the country with an eye for spotting talent. 
After all it's Kerala Blasters and not NorthEast Blasters!