Indian Super League
ISL 2017-18: Defence deserves applause, admits player-manager Robbie Keane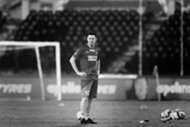 In their last league game of the season, ATK got the better of NorthEast United as player-manager Robbie Keane registered the winning goal in the 10th minute. Following the result, ATK confirmed their ninth spot in the league standings.
Discussing the result, Keane applauded the defensive unit of the Kolkata-based outfit as they succeeded in keeping a clean sheet on Sunday evening.
''The most important is to get in the ring. The confidence was low in the last two matches as we conceded nine goals in two games. From conceding own goals to keeping a clean sheet (tonight), I have to praise the defence. We did make a few mistakes in between by conceding possession but our goalkeeper (Soram Poirei) was good,'' revealed Keane.
Reflecting on their display, the 37-year-old striker admitted that they would have preferred a different style of football but were forced to follow a certain pattern due to the current situation. ''Honestly, this is not the way I want to play football but we had to do the job. We want to play more expansive and keeping more of the ball but we had to play according to the circumstances,'' expressed the former Tottenham Hotspur player.
20-year-old Sibongakonke Mbatha joined ATK in the month of February and played a total of three games for the 2016-17 title winners, including the fixture on Sunday. Appreciating his efforts, Keane expects the South African youngster to return in a better shape for the upcoming Super Cup. ''It has been tough for most of the players and the same goes for me. We played three games in nine days. I have to commend the hard work put in by him (Sibongakonke Mbatha) but expect him to come back fresh in the Super Cup,'' concluded Keane.
Finishing in the bottom four of the league, ATK will play the qualifying matches in order to compete for the Super Cup which will see participation from I-League and ISL teams.