Indian Super League
Indian Super League: Marquee player no more mandatory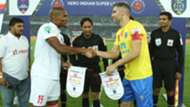 The Indian Super League (ISL) instantly connected with fans in India and one of the primary reasons for the same has been the presence of marquee players. Indians could now watch some of their favourite stars in their own city.
The likes of Alessandro Del Piero, David Trezeguet, Robert Pires, Luis Garcia, Lucio were amongst the star names to have graced the league.
However, not many of the marquee players set the league on fire. In Goal's marquee player report card, seldom did the star names live up to the reputation on the field. In season one, Elano Blumer starred for Chennaiyin FC and took the league by storm alongside Luis Garcia for Atletico de Kolkata. David James too played a pivotal role for Kerala Blasters in their run up to the final.
Bengaluru FC's decision highlights the plan for the future
In the following season, Roberto Carlos didn't take to the field much though Florent Malouda starred for Delhi Dynamos. Apart from the Frenchman, only Lucio and Elano made meaningful impacts for their side as they made it into the final two.
Last season Aaron Hughes was amongst the best defenders in the ISL while Diego Forlan scored crucial goals for Mumbai City FC. Although Delhi once again failed to make it into the final, Malouda wowed the Indian fans with some brilliant play.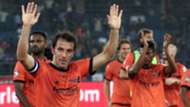 One of the issues plaguing most ISL franchises has been the amount of cash they have been shelling out for these players and often they do not get enough contribution on the field from them.
ISL to get recognition from AFC
Also with ISL expanding its duration from two months to five months this term (seven months from 2018-19), the costs for the franchises will certainly go up if they are to lure the star names for the season.
It is believed that the ISL has scrapped its marquee player rule from 2017-18 season with clubs being under no obligation whatsoever to sign a star name in order to draw the attention of fans. However, should a club wish to sign a marquee player his wages will not be part of the salary cap only if he has been approved by the league body as a star name. 
The clubs would now need to allocate resources wisely to sign foreign players who would make an impact and generate interest among fans with their fantastic performances just like how Mendoza and Marcelinho did for Chennaiyin FC and Delhi Dynamos respectively.