Indian Super League
Indian Super League 2016 - Marcelinho departs Delhi Dynamos for Brazil's Lions Avai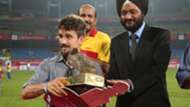 Marcelo Leite - better known as just Marcelinho to his adoring fans in the Indian Super League (ISL) - has earned himself a move back to Brazilian soil with the Florianopolis-based club Avai. 
The 29 year-old, who finished the ISL's third season as top scorer for his club Delhi Dynamos, confirmed his decision to join a club in his homeland.
The diminutive and talented attacker scored 10 times in 15 games for the Pride of Lions, notching up the most shots by any attacker on target - 26 - while also accumulating five assists. 
Avai are coached by Claudinei Oliveira and participate in the Brasilian Serie A, the top tier of the South American country's football ladder. The play their games at the Estádio Dr. Aderbal Ramos da Silva, a 
The former Atletico Madrid B player had revealed to Brazilian daily GloboEsporte, "My wife would love me to show my worth in Brazil to join as a fact of our little daughter to be with three years and we can live in our homeland," as early as November last year.
It has also been stated that the former Flamengo youth player sought Zico's blessings on the move, after having a consultation on the same with the former FC Goa gaffer.
Incidentally, Marcelinho moves to a club in Brazil who are also nicknamed Leão da Ilha or Lion of the Island
. 
Fala galera , tô muito feliz , tudo encaminhado já com @AvaiFC , aguardo ansioso o início dos trabalhos , obrigado a torcida pelo carinho .

— Marcelo Leite (@marcelinholeite) January 17, 2017