Olivier Giroud
'I'm not worried' - Giroud happy to fight for Chelsea place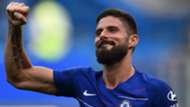 Chelsea striker Olivier Giroud feels he has nothing to prove given his status as a World Cup winner and welcomes competition for places with Alvaro Morata. 
The 32-year-old forward has seven Premier League appearances under his belt so far this season but has failed to find the back of the net in his new role under Maurizio Sarri. 
Giroud returned to club duty late this summer after winning the World Cup with France in Russia and has thusly had to fight for a starting berth with Morata at Stamford Bridge. 
The Spanish striker has also come under criticism for his poor strike rate in recent months and has just three goals to his name in all competitions so far this term. 
Giroud brings a different dimension to Chelsea's attack when he does feature, with his superb aerial ability and hold-up play, and he has defended his qualities, insisting that he knows exactly what Sarri expects from him going forward.
"Last season I was already competing with Alvaro," Girould told RMC Sport. "I played a lot of matches. This year, it was truncated by the fact that I arrived late. 
"Football is an eternal start and even if you have some credit, you have to move with the times.  
"That's what I did and I'm not worried. Chelsea need two attackers to fulfil their goals this season. 
"What Sarri asks of me? A good understanding with his attacking players combined with tactical nous.  
"Be the first to do the pressing, and press high to get the ball in the other half." 
Giroud was speaking after heading on international duty with France, during which the world champions will play Iceland in a friendly, before a UEFA Nations League clash against Germany. 
The former Arsenal striker went on to evaluate his summer with the national team, highlighting his impact as Didier Deschamps' first-choice centre-forward. 
"I did not manage to find the net at the World Cup, but I know what I brought to the team," Giroud continued. 
"It was an amazing summer and I think a lot of French people think the same thing. 
"I have never put my personal interest in front of the collective. It shows on the field, the way we defended.  
"We are the team that scored the most goals with Germany 2014 in the last 20 years." 
He also played down talk of overhauling Michel Platini, who sits second on France's all-time top scorers list, nine ahead of Giroud, who is two goals behind third-placed David Trezeguet.
Giroud added: "Go past Michel Platini's mark with France?  
"I will try to overtake Trezeguet's one first then we'll see after that.  
"I am someone who sets goals for myself if the odds are reasonable, It will be step by step."