African All Stars
'I thought it was a dream' - Bailly on Manchester United move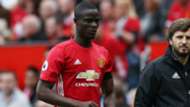 Eric Bailly has revealed how surreal it felt after Jose Mourinho made him his first signing for Manchester United.
The 24-year-old defender, who stated he had a 'normal' upbringing amid juggling football with managing phone boxes in Abidjan, was signed by the Red Devils from Villarreal for £30 million in a four-year deal in the summer of 2016.
"I found out when I was in the Ivory Coast," Bailly told the Guardian.
"I didn't believe it was true, I thought it was a dream. Afterwards I found it was true that the team was interested in me and it was something big for me, and I am thankful for everything that happened in that moment.
"When I came to Manchester, it was a bigger step from when I was in Villarreal," he continued.
"It is something that is not easy, when you come to a team where there are players that have more experience in the English league. I had to see how the football was played.
Despite acknowledging his immense talent, Mourinho had suggested the Ivory Coast international would need time to settle down in England but Bailly took less time before exerting his influence at the heart of the Old Trafford outfit's defence.
"For me, it wasn't difficult because I had very good teammates that helped and were always looking after me, all of this helped me join the group and that is why it wasn't that difficult," he said.
"I've had the luck to be in a dressing room that is like family. The majority speak French and Spanish, like Ander [Herrera], Juan [Mata] as well as Paul [Pogba] and [Anthony] Martial and the English players, such as Chris Smalling and the others, treated me like family as well."
After helping Manchester United to two major titles last season, the former Espanyol defender is set to play a crucial role in the repositioning of the English side as a European powerhouse.
"The team has always been at a world-class level, they have just had some bad moments.
"But now it's time to give Manchester United its value. That comes with our hard work and that's what all the players do that come - like Lukaku and Paul, and also Lindelof. With all the hard work we put in we are going to demonstrate that we are again a world-class club."