I-League
I-League 2017: Shillong Lajong's Thangboi Singto - Nothing less than a win will be enough for us against Aizawl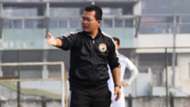 Shillong Lajong shared spoils with hosts Mumbai FC on Sunday evening as their star midfielder Yuta Kinowaki scored a goal in stoppage time to deny the Mumbaikars full points at Cooperage. Head coach Thangboi Singto fielded seven U-22 players in the fixture on Sunday evening as they flew back home with a point.
The Meghalaya outfit will welcome title favourites Aizawl FC in the final fixture of the season. Khalid Jamil's army needs to grab just a point to seal the title victory but the Lajong gaffer has assured that his youngsters will put up a tough fight for the side from Mizoram.
''We (Shillong Lajong) have got to win the derby. We are professionals and our job is to win as many matches as possible, as players or coaches. It is the most important game for Aizawl and it is big for us as well. Because, for us, Lajong has been a pioneer in football but we have always been in the mid-table (rankings). They (Aizawl) have to win to be champions or at least need a draw. We too have to give whatever we have as it would be the last match of the league,'' he expressed.
Bengaluru FC set new milestone
Further, the Manipur-born boss added that the fifth placed Lajong side will not settle for anything less than three points on 30th April. Also, Singto ensured that his team will not favour their North Eastern counterparts in any form.
''It (the game) has different importance for the teams. As a club, I think no less than a win will be enough for Shillong Lajong because I know in competitive sport you need to do your best despite any brotherhood,'' he explained.
Any slackness shown by the Lajong players will be termed as gifting the game to Alfred Jaryan and company. But Singto believes that his lads would refrain from doing so as they are well aware of the nature of the contest.
''I believe in my boys and they have always shown professionalism. They know their job because even for them a win is important for going forward,'' he remarked.
Relegated Mumbai FC on the cusp of creating two I-League records
Lastly, Singto provided an update on Aser Dipanda's fitness who was absent from the tie in the metropolis city on account of an injury. The boss revealed that Cameroonian was on the absentees' list  as the boss didn't wish to risk him. Moreover, Singto confirmed Dipanda's inclusion for the last home tie.
''Dicka had a groin strain against Bengaluru FC so we didn't want to risk him for the game against Mumbai because we want him to be ready for the next game. He will definitely feature against Aizawl,'' he signed off.