I-League
I-League 2017: East Bengal's Trevor Morgan: The next game is always the most important one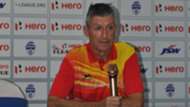 East Bengal host Churchill Brothers on Tuesday as they bid to pull further apart from the chasing pack at the top of the I-League table.
Sitting pretty on 27 points out of 12 games, the Red and Golds' faithful might have been tempted to count down to the magic number that would secure them their first ever I-League trophy, but Trevor Morgan is not one to count his chickens before they hatch.
"We're always prepared. We had a long journey back from Shillong yesterday. The players who weren't involved trained today and the others had a cool-down. This game is very important because of the three points on offer. The next game is always the most important game of the season. After this one, the next one would be. We are not setting a points total as target. We are not saying 'we have to do this, do that'," he laid out.
He went on to heap praise on his Goan counterpart, giving him credit for turning around his side as compared to the start of the season.
"Derrick Pereira is a very experienced coach. He knows the I-League, he knows the players he has got. They are a better team than they were before. But this game is about doing the things we are good at," felt Morgan.
The Englishman was asked whether not participating in continental competitions was a blessing in disguise as it helped focus his players' energy on the league and avoid fatigue. He felt otherwise, saying that that participation would have weighed on the right side of the cost-benefit balance.
"Playing in AFC competitions is a problem I'd like to have, because it would mean we are successful. And the experience would help the team. Mohun Bagan and Bengaluru FC are playing in the AFC Cup, it means they have been successful," he argued.
He made it very clear that consistency was the key should East Bengal be serious about laying hands on the silverware.
"We're not going to win the I-League on the back of one performance. If we win, we'd win because we have more points than anyone else, and that means we have to put in several good performances," Morgan said.
Despite all the pressure of being the table-toppers, Morgan was able to relax his funny bone as he cracked a joke on the power cut that happened during Churchill's match against Bagan.
"Saw the first half, but couldn't watch the second half. Wouldn't have seen it anyway as the lights went out!"