I-League
I-League 2017-18: AIFF rejects all three bids for new teams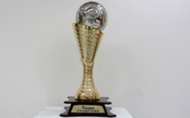 In what should come as a blow to Ozone FC and Gokulam FC's hopes, the All India Football Federation (AIFF) has rejected their bids for a spot in the upcoming season of the I-League. 
The AIFF has also spurned the bid from a new team from Jaipur after they took stock of the three bids received. 
Another new team from Gujarat were also expected to table a bid but they failed to do so in time, meaning the AIFF were left with just the three bids to evaluate. 
Gurpreet reveals why he chose Bengaluru FC
With all three bids missing several required documents, the AIFF has decided invite new Request for Proposals (RFPs) which is basically a re-opening of the bidding process. 
However, the three parties whose bids were rejected, will now have a chance to furnish the details which were missing in their previous bid. 
Similarly, this will also allow other teams, who had failed to pick up the bid documents earlier, to submit a proposal again. 
This might also open a lifeline for relegated Mumbai FC to grab a spot in the league for the coming season by submitting a bid. 
Currently, there are eight teams in the I-League and AIFF are likely to select only one team from the bidding process as they are also about to re-instate the Arrows project which will see a team of youngsters competing in the league as well.