Manchester United
Heinze: Roy Keane knocked me out at Man Utd!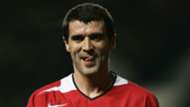 Former Manchester United left-back Gabriel Heinze has suggested that Roy Keane knocked him out in the dressing room after a defeat.
Heinze spent three years at Old Trafford between 2004 and 2007, prior to a move to Real Madrid, and won the Premier League title in his final year at the club.
The Argentine, now manager of Argentinos Juniors, was well-liked at United due to his fiery temperament and aggressive playing style.
However, such an attitude also got him into trouble with his team-mates, with Keane – perhaps one of the greatest hard men of all time, taking exception to him on one particular occasion.
"We lost a game and I went in the dressing room first and Roy Keane was second," he said on Argentine television. "I liked to go first after the game; I didn't want to speak to anyone as we lost.
"I didn't understand English, just the bad words. I heard my name and "f*** off" by Roy Keane, the best player.
"I knew that was bad so I stood up to him, this idol of Manchester, this great guy who everyone loved, and replied: "F*** off, you". I don't remember what happened next."
Asked if that was because he was on the receiving end of a punch, he replied: "Yes. Yes."
Heinze moved to Real after attempting to force a move to Liverpool, a shock transfer that the club unsurprisingly vetoed.