Juan Hernández
He can't stop scoring - Meet Barcelona target and Goal NxGn starlet Juan Camilo Hernandez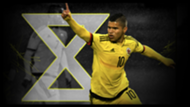 The name Juan Camilo Hernandez may not be familiar to many outside of Watford and the Liga 2, but that surely will not be the case for much longer. Huesca's on-loan teenager is making serious waves in the Spanish second division, to the extent that giants Barcelona are among the teams reportedly keeping tabs on the young Colombian.
Hernandez was sent to Spain almost immediately after securing a move to the Hornets from America de Cali in 2017, and has wasted no time in showing off his ample talent.
The 18-year-old has smashed 11 goals in 23 games for Huesca, a statistic that is made even more impressive by the fact that he feels most at home in midfield, albeit with an innate knack for bursting into the opposition area that became apparent in his very first outings as a professional for Pereira back in his native Colombia.
According to the data compiled via Goal+, that goal tally far outstrips the mean scoring potential of a player in his position on a league-wide basis.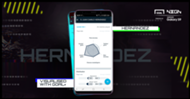 No less astounding is his conversion rate: 15 percent of his 88 shots this season have entered the net, with a whopping 53% at the very least forcing the goalkeeper into action; again, far superior to the Liga 2 averages of 9% and 40% respectively for midfielders.
It is no fluke: at just 16, Hernandez hit 21 in 33 games for Pereira prior to his America move, and the following year was Colombia's stand-out talent at the South American Under-20 Championships playing with kids well above his own age.
He has also shown ample mental strength in bouncing back from two injuries over the course of the season, and has led Huesca to the verge of the Primera – the team currently lies in the second and final promotion spot, two points clear of Sporting with a game in hand.
One of the games that fully showcased Hernandez's potential came against none other than Barcelona B, the giants' feeder club that share a spot in the second division with Huesca.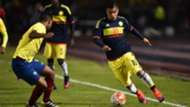 The Colombian hit both of his side's goals in November's 2-0 victory over the young Blaugrana hopefuls, and in doing so made sure his name would reach those in charge at Camp Nou.
Following that game Watford fielded calls from Barca regarding their Spain-based youngster.
The reply from the Hornets left no doubt, however, that Hernandez is considered a big part of their future. A pricetag of no less than €25 million was slapped on his head, a number that will give even Ernesto Valverde's men pause for thought after spending heavily on the likes of Ousmane Dembele, Philippe Coutinho and Paulinho in 2017-18.
Be it at Barcelona or at Watford, it is clear that Hernandez is one to watch for the future. If the Colombian wonderkid can lead Huesca to the promised land his value will only rise over the summer, and plenty of other major European clubs could join the Catalans in seeking a dynamic midfielder who knows exactly where the goal is.
Get Goal+ for your Samsung device now - it's the ultimate stats app for fans that features real-time performance data and is now available on the hottest new mobile device