KPL
Hall: AFC Leopards did not create enough chances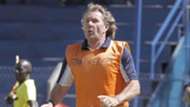 AFC Leopards coach Stewart Hall has conceded his team was toothless against determined Ulinzi Stars.
The thirteen times league champions came into the match as favourites but ended up sharing spoils against a well organized Ulinzi defense. Hall has revealed some players were unfit but again had to play against the soldiers.
KPL write to AFC Leopards over substitute 'paper'
"We did not create enough chances and that contributed to the result, though I feel we could have scored in the first half. But I am impressed with the way we played, this is a team, a new team and we are developing," Hall told Goal.
"Remember we did not have many strikers, as we could have wished, remember Kiongera (Paul), was out injured. It was a game we played with several players on pain killers, and maybe it could have been different suppose we could have had all players available."
AFC Leopards are currently on top of the table with seven points.