A guide to JSSL, the football academy which produced the first Singaporean to sign with an EPL club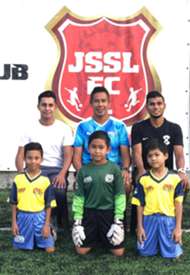 In this article, Goal Singapore takes a closer look at football academy JSSL which has produced the first Singaporean footballer to sign with an English Premier League club.
3 Catergories
JSSL is split into three different categories.
First is JSSL FC Singapore which contains:
- 1000 Youth Players
- 750 Soccer Schools
- 50% Local Players
- 552 Local Players
2) Second is the JSSL Singapore National Leagues which has:
-250 teams
-36 divisions
-12 leagues
-over 3000 players
3) Lastly it is the JSSL 7S Singapore that is made up of:
-360 teams
-15 nations
-10 professional teams
-12 categories
-over 5000 players
-over 10000 inbound tourists
Mission of JSSL Singapore
It is to revolutionise youth soccer in Singapore by providing every player with a positive learning experience, engaging all levels and backgrounds, with interactive activities and top quality coaching to develop them both on and off the field.
Three facts about JSSL
1) Open to children of all abilities, ages, gender and race.
2) The Number 1 Youth Soccer Club in Singapore with over 1000 students
3) JSSL offers a scholarship covering the cost of training and tournaments for 50+ Local Players
  Venues of JSSL
1)SAFRA Tampines
1/A Tampines Street, 92528882
2)THE ARENA
48 Woodleigh Park, 357844
3)TANGLIN TRUST SCHOOL
95 Portsdown Rd, S139299
Partnerships
JSSL has built a reputation for producing the most talented young footballers in Singapore.
Partnerships with Fulham FC and Tampines Rovers provides JSSL Players a clear pathway into Professional Football both in Singapore and into Europe's top football leagues.
Arsenal Ladies have recently begun a partnership to provide JSSL's Elite Girls a pathway Women's Professional Football.
2 U16 Singaporean National Team Players who have been with JSSL since 6 years old have recently trained with Arsenal Ladies Academy team.
These partnerships also provide local JSSL Coaches opportunities to continue their coaching development with Tampines Rovers U16, U19 teams & Goalkeepers coached by JSSL Coaches.
JSSL National Youth Leagues
The Largest Youth League in Singapore, with action at 3 island-wide locations every weekend.
Split into two half seasons: Season 1 (9 Sept to 2 Dec) & Season 2 (20 Jan to 12 May).
Provides Singapore's Youth Teams with a High Quality and Challenging League Competition.
JSSL Events (Tournaments)
Over the past 6 years JSSL has participated in tournaments in Sydney, Dubai, Bangkok, Phuket, KL & Gothenburg.
Each trip JSSL takes up to 10 teams, consisting of 10-12 players per team and each player travels with at least 1 parent.
JSSL is proud to fly the Singapore flag around the world and provide it's players with unforgettable tournament experiences and memories.
JSSL Camps
Fun Soccer Camps held throughout the year in Singapore, primarily during the school holiday periods.
Camp 1 (June 4 - 8) Camp 2 (June 25 - 29) Camp 3 (July 30 - Aug 3) Camp 4 (Aug 6 - 10) Camp 5 (Aug 13 - 17).
There is a Phuket Camp in December where JSSL Players in the programme, headed by a Head Coach from Fulham Football Club. Hosted at Thanyapura Sports Resort - Top class facilities surrounded by a beautiful environment.
JSSL Professional academy 7's
In addition, JSSL's international 7's is Asia's Largest Youth Football Event.  Significantly, the JSSL Professional Academy 7's continues to grow each year. Increasing interest from global men's teams (including Manchester City & Barcelona) as well as the addition of the Ladies Professional Category.