Premier League
Guardiola realised Man City's biggest problem after winning 5-0!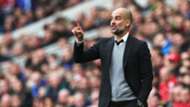 Pep Guardiola says he first noticed the major problem with his Manchester City team in the first week of the season.
Guardiola has long lamented that City are "not strong enough in the boxes" - that they do not score their chances and concede too easily.
Alexis: I fear becoming a nobody
It has been a common complaint throughout the season and has resulted in them dropping out of the title race before Christmas and crashing out of the Champions League at the last-16 stage.
City won their first 10 games of the season but then drew three and lost three of their next six games, drawing three consecutive home league games 1-1 against Everton, Middlesbrough and Southampton.
Guardiola says those games made clear the issue which would go on to derail the club's title charge, but insists he already had his suspicions much earlier.
"In the Champions League qualifiers - especially in attack - against Steaua Bucharest when we won 6-0 [sic, it was 5-0]. Normally, that game would be 12-0," Guardiola said. "We missed two penalties and so many chances. I was happy because the first target was to qualify but after that with the Everton and Middlesbrough games I realised we had to play really, really, really good to win the games.
"When that happened, we didn't win three or four different games. We created chances but we had problems to score and when that happened we suffered," he added. "How many times they shot in our goal? Two or three? They scored two goals. We have to work harder and better to minimise these kind of things and the way we play, especially in the big games, we were good but not good enough.
"We have to be honest with ourselves. We were not good enough to compete for the Premier League."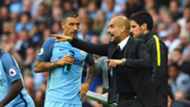 Guardiola has seen a number of unwelcomed firsts this season. The former Barcelona or Bayern Munich boss had never failed to reach the Champions League semi-finals until this season, had not lost so many league matches (currently six), and had not endured as long a winless run as he did in the autumn.
Premier League agent fees revealed
The Catalan also needs to win the FA Cup if he is to avoid the first trophyless season of his career.
He insists, however, that he will come back stronger for the experience.
"I will be better - definitely," Guardiola said. "This season was a lesson for me. It's normal when you have seven, eight, or nine years as a manager to have a season where you don't have as much success as before. It can happen.
"You learn about that, you don't regret that I was not able to know our problems in the boxes and not [be able to] solve it. That is what I should do in advance to correct that but it is part of our growth. I never could imagine in Barcelona, Bayern or when I arrived here knowing absolutely everything. I tried to adapt the players as much as possible. I did it and I think we will be better. I feel like we're better now so that is a more interesting year for me as a manager to grow and handle this kind of situation.
"I didn't complain, I didn't give up. I was disappointed with what happened after the game [at Chelsea on Wednesday] but I immediately saw what we have done to improve. That's why I like a little bit and enjoy this year but we have a lot of beautiful things left to fight for this season. The Champions League is so important, [qualifying] will be a huge success from my point of view and of course we have the FA Cup. We still have a lot of things to do."