Bayern München
Guardiola failed, Ancelotti too - will Heynckes finally end Bayern's Spanish curse by knocking out Madrid?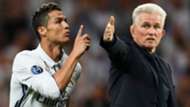 Ever since Bayern Munich obliterated Barcelona on the way to their Champions League triumph five years ago, the German side have found themselves dismantled by Spanish sides in every attempt to regain the continental crown.
Jupp Heynckes' side eased past the Camp Nou giants with a 7-0 aggregate win in the semi-finals on their way to a treble of trophies in 2013, but La Liga's stronghold on European football has kept them away from the grand stage.
Under Pep Guardiola and Carlo Ancelotti, Bayern remained the undisputed kings of Germany, but failed to replicate Heynckes' heroics.
Guardiola was undone in his first season by Ancelotti's Madrid, who beat them 5-0 over two legs and would go on to win their long-awaited 10th European success in 2014.
They made it all the way to the final four again the following campaign, but this time Luis Enrique's team got revenge. After losing 3-0 at Camp Nou, Bayern took a 3-2 lead in the return leg but could not overcome the deficit, propelling Barca to the title.
In 2016, it was Atletico Madrid who stopped them at the penultimate phase. Saul fired Diego Simeone's men to a first-leg win in the Spanish capital and although strikes from Xabi Alonso and Robert Lewandowski gave Bayern hope in Munich, Antoine Griezmann supplied the decisive away strike to send his side through.
As Guardiola departed without delivering a Champions League title, Ancelotti stepped in and the struggle against the Spaniards continued as they lost 1-0 to Atletico away in the group stage, but cancelled it out with a win at home.
They progressed to the quarter-finals and once again faced Real. After Arturo Vidal's early opener in the first leg, a Cristiano Ronaldo double saw Madrid take a lead back with them. Bayern went all out, however, and looked capable of going through until Vidal's dismissal. Ronaldo made his crucial intervention in extra time with two more goals before Marco Asensio rounded off a 4-2 win. Again, Madrid went on to win the title.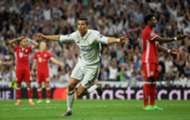 Ancelotti was dismissed earlier this season amid Bayern's early Champions League struggles, and with Heynckes back in charge and having whipped his side into shape, they are hoping to recreate the magic of 2013 with another treble.
Beating Sevilla in the quarter-finals this season comes as a good omen for Bayern, but an even greater obstacle awaits them in the last four in the shape of reigning champions Madrid.
Zinedine Zidane's men will be confident of maintaining their strong run against Bayern with eyes on defending their title.
Heynckes, on the other hand, is out to show he's the real master and that with the likes of Lewandowski, Arjen Robben and Thomas Muller, he can restore his side to the pinnacle of Europe.