African All Stars
Immaturity almost cost Green Springs victory, says coach Anjorin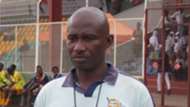 Green Springs survived a setback in their 4-2 penalty shootout defeat of Eko Boys to book a spot in the semifinals of the 2017 GTBank Masters Cup, and although coach Olayemi Anjorin expressed his delight, he blames his side for being immature.
The Lekki side opened the scoring through Ikechukwu Nwasor but a late goal from Segun Fagbamila ensured the Anjorin's boys had to win the encounter from the spot.
KUDOS! @GSLNigeria got the job done through penalties. #EkoBoys may have to wait another year. #GTBankMastersCup pic.twitter.com/Msw4zK165c

— Goal.com Nigeria (@GoalcomNigeria) May 11, 2017
"Well, I'd say a little bit of immaturity from my side almost cost us.," Anjorin told Goal.
"They scored us with 11 minutes left to play. We are a young side and we are still coming up. A matured side would be able to hold their own but we were able to cover up in the shootouts.
"We used our second team because the first team are having their exams but we thank God that we still made it.
"It's an important win because it is one that has taken us to the semifinals. We needed it to move up so we thank God that we did so," he concluded.