African All Stars
Anwal Islam's Suleiman sets sight on GTBank Masters' trophy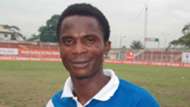 Anwal Islam Model School coach, Abdulmaliq Suleiman is confident of his side's credentials to lift the 2017 GTBank Masters Cup following their 1-0 quarterfinal defeat of Kings' College at the Onikan Stadium.
In a game completely dominated by Suleiman's boys, a Mustapha Zubair's strike four minutes before the break was all they needed to secure their progression.
"I feel happy and thank the Almighty Allah that kept us to this stage. We have to win this cup because we won it in the first and second season and we are back again to win it," Suleiman told Goal.
"Our opponents played their part, they showed themselves as good footballers but if two iron collide, one must bend for the other.
 "My boys performed below expectations but I'm glad they sailed through. They had a lot of goal scoring chances but they wasted them.
"That's another huge task because this is the semifinal and any chance you have must be converted and I'm going to correct them," he concluded.