WC Qualification Europe
Given urges Ireland to use the 'feel-good factor' from Wales win in playoffs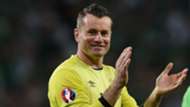 Shay Given is urging Ireland to capitalise on their momentum-boosting win against Wales in the upcoming World Cup 2018 playoff matches against Denmark.
Martin O'Neill's side travel to Copenhagen for the first leg on Saturday night after securing their place in the playoffs courtesy of James McClean's solitary strike against the Welsh in Cardiff last month.
5/2 for Denmark and Ireland draw
Ireland's most-capped goalkeeper believes that a similar result against Denmark would set the team up nicely ahead of the second leg in Dublin next Tuesday.
"I think they've got to take the feel-good factor from the Welsh game which was only a few weeks ago," Given told Goal.
"They went away to Wales and got a fantastic victory. If they can do that in Denmark - get a 1-0 in Denmark - and bring it back to Dublin that would be a great result to hopefully get the job done there."
Given is well experienced in these kinds of scenarios having kept goal for the Boys in Green in playoff games ahead of World Cups in 1998, 2002 and 2010 as well as for the European Championships in 2012.
Ireland have had a mixed record in playoffs down throughout the years and the 41-year-old admits nerves will be jangling in the Irish camp.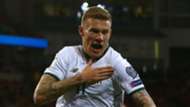 "They're probably nervous but excited as well," he said. "These are such big games, the whole country is behind them.
"The whole country is watching these two massive games and they've really, really well to get to this stage. Now they need to just get across the final hurdle to get over the line.
"The draw to be fair has been favourable but at the same time Denmark are rated higher than us in the FIFA Ranking so it's not an easy game."
Given has seen it all in the playoffs – from losing to Belgium as an apprentice under Mick McCarthy to qualifying for the 2002 World Cup after a stunning performance against Iran home and away. Not to mention Thierry Henry's infamous handball which cost the Irish their place at the 2010 World Cup.
"I've been involved in a few," he says. "The highs and lows. The very first one I was involved in was Belgium. We missed out on the World Cup.
"There's a picture in the book where I'm crying at the end because I was so young. I don't know what age I was, 19 or 20, really young in my international career and life in general.
"Growing up in Ireland as a fan and then I'm part of the team and this is my chance to go to a World Cup as a player and we lost out to Belgium. I was inconsolable after the game, I was devastated.
"And then obviously the highs of qualifying out in Iran for the World Cup in 02. One's down there and one's up here. It's so much emotion and I know which side I prefer to be on and that's definitely the winning side in a playoff.
"It's a lonely place when you lose out… getting so close but yet so far."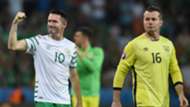 Given called time on his career at the end of Euro 2016 when he was part of the Irish 2013 and his retirement – along with fellow centurion Robbie Keane – has left Martin O'Neill's squad a little lighter on top-level experience.
"We are a small country and it's important we get the next generation of Damien Duffs, Robbie Keanes, Roy Keanes, Richard Dunnes," said Given. "We need a new generation to come through and bring the squad on to the next major tournament."
Irish trio James McCarthy, Richard Keogh and Sean Maguire have been ruled out of the double-header this week while squad mainstays Seamus Coleman and Jonathan Walters remain absent.
Given believes that a relative lack of top-flight experience could end up counting against the Irish with 17 of Ireland's current squad of 26 featuring at Championship level or lower.
"That's the problem when you look at the Ireland set-up," said Given. "There's a lot of players in the Championship and maybe not playing in the Premier League, on the bench, and with two big qualifiers coming up it's hard for them to get up to match pace.
"It's a difficult job for Martin and Roy to get them to that pace because they're not playing week in, week out at their clubs. How do you do that? It's difficult for the lads who are not playing, they've got to do extra fitness stuff on the side as well.
"In an ideal world, you'd love them all playing in the first team."
Shay: Any Given Saturday - The Autobiography is published by Trinity Mirror Sport Media and available in Hardback or ebook