Malaysia Cup
Gartung content with outcome as priority lies in Super League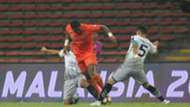 PKNS FC became the first team to be knocked out of this year's Malaysia Cup competition after they suffered 1-3 home defeat to Perak at Shah Alam Stadium on Saturday. 
The Red Ants currently occupy bottom spot in Group B, having collected only a solitary point after four round of matches played. With only two matches left to be played, PKNS mathematically cannot overtake Felda United who are second with eight points.
Sven Gartung made five changes to his team, from the ones that started in the midweek win over T-Team FC and for the newly-appointed head coach - it was the right decision to do so. Even then, Gartung tried to make best what he can but admitted that Perak were the better team on the night.
"Very proud of the boys. They fighting 90 minutes. But when I took over in the job, we said the focus is on the league, this is the cup. You can see that Perak wants to move on in this cup. They wanted three points, so they came with the full orchestra. We made some changes and I'm very proud of the players that played tonight [Saturday]."
"We want to win every single match. We don't go into the pitch to lose. Even if we don't put our best XI. End of the day, it was a penalty and a nice set piece conversion. We tried everything that we can but at the end of the day it wasn't enough," he said after the match.
Alif Haikal was one of those that retained his place from midweek but he only lasted less than 20 minutes on the pitch after he suffered an injury which forced him to be taken out. Gartung provided an update on his situation but it doesn't look promising for the young attacking midfielder.
"He's in hospital right now. He has something on the side of his leg, in the bone. It's a pity. Perak played very physical, but we know what we need to prepare for next week's match," Gartung added. 
PKNS will now travel to Jengka to play Felda in the next Malaysia Cup match before a trip to Ipoh to face Perak again, but this time in the Super League on 5 August 2017.