Ligue 1
From Ligue 1 to superstardom: Youri Djorkaeff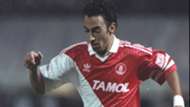 Youri Djorkaeff was destined for Ligue 1. He didn't know it at the time, but he was set to be the star of a footballing dynasty. For the Djorkaeffs, it's in the blood.
Born in Lyon in 1968, he was the son of a France international. His father, Jean 'Tchouki', was a Ligue 1 legend himself. He spent 15 years as a player, mostly with Lyon, Marseille and PSG.
Djorkaeff Sr. also turned out 48 times for France, though his World Cup career was limited to three matches at England 1966. But perhaps the only thing greater than realising your dreams, is seeing your children do it for you. 
Youri's road to glory appeared predestined. "The whole family was immersed in football," Tchouki told Fifa.com.
"I gave him the chance to really put himself to the test. Youri started out as a youngster with Decines (in the suburbs of Lyon), and after that I got him a place with Saint-Priest, a feeder club for Olympique Lyonnais.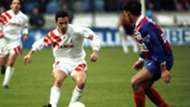 "When I saw he had what it takes to enjoy a career in this sport, I got right behind him."
Youri's ascent to the top of the game began in earnest at first club Grenoble, at the foot of the French Alps. His talent was clear from the beginning, though it took five years for a bigger club to come calling.
After hitting 11 goals in 28 matches in the 1998-99 season, Strasbourg called. He would spend just one season in Alsace, his remarkable return of 25 goals, however, wasn't enough to take the club to Ligue 1 as they lost out in a promotion play-off to Nice.
The secret, however, was out. There was no doubt that Djorkaeff was heading to Ligue 1, with or without Strasbourg, and he was quickly snapped up by Monaco. And it was in the principality that his new coach, Arsene Wenger, would christen Youri 'The Snake', because you never knew when he would strike.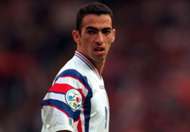 "I bought him because of his goalscoring and how he used his vision on the ball," Wenger told ESPN.
Djorkaeff and Wenger would take Monaco to a Champions League semi-final and claim the Coupe de France, but it was not all smooth sailing.
"Wenger told me Youri needed to learn what it meant to 'become a 24/7 pro," teammate Jurgen Klinsmann told ESPN, recalling how Youri was often dropped out of the side.
"I watched and saw how he got Arsene's message. It took weeks and weeks, but when he broke through, there was no looking back."
Though Monaco would finish ninth in the 1993/94 Ligue 1 campaign, nobody would better Djorkaeff's 20 goals that season.
Soon after he was moving on, heading to the bright lights of Paris to join PSG. The Parisians would finish runners-up in his lone season with the club, as Djorkaeff struck 13 goals.
But he left a lasting impression, most notably for his heroics in leading the club to the UEFA Cup Winners' Cup, netting perhaps the most vital goal of the campaign with his stunning long-range strike versus Deportivo La Coruna to give PSG a 1-0 first-leg victory in Spain.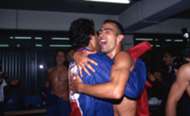 "It's not necessarily my best goal," he told La Parisien, preferring his spectacular volley against Auxerre in Ligue 1.
"But it was the most important. That goal will remain mythical forever because it is the one that sent us in the final."
They took the title by seeing off Rapid Wien in Brussels, in what would be Djorkaeff's final game for the club. Little did he know it, but it was just the beginning of his international success. He headed for Serie A that summer, and would go on to become a European and world champion with France.
He hung up his boots at 38, after playing well into his twilight years and writing himself into Premier League history for his memorable stint with Bolton Wanderers.
"Youri was top-class, a brilliant human being as well as a brilliant footballer," said Bolton boss Sam Allardyce. "He knew how to set the standards."
As did his father before him. And now it's Youri's time to set them for the next generation. The dynasty look set to continue, with his 19-year-old son Oan carving out a career with Montpellier, hoping to become a third generation international.
He couldn't ask for a better teacher.