Nantes
French-born Kwateng aspires to make the best of opportunities at Nantes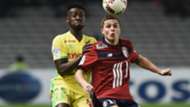 France youth international of Ghanaian descent Enock Kwateng hopes to solidify his place in Nantes' set-up, having been handed starting opportunities due to the absence of injured first-choice right-back Fabio da Silva.
The 21-year-old, who has represented his country of birth from U-16 to U-20 levels, has been given full-time outings in The Canaries' two league games of the season.
It is indeed bliss for the full-back, who, also partly due to injuries, made just one topflight appearance last term.
"Away from these two setbacks, I am very happy now," Kwateng said at a press conference on Thursday.
"Every time I'm on the pitch, I try to give my best for the team.
"All that the coach will give me this season, I will take it. He has confidence in me.
"I have many responsibilities, now it's up to me to show that I can be a regular starter this season."
Kwateng's personal joy sharply contradicts Nantes' woes so far, the club having lost the opening two games.
But against Caen on Saturday, the Mantes-la-Jolie-born hopes to see joy for all in the home fixture.
"We started with two defeats, the fans were expecting a lot better from us, so we have to bring back the three points for them this weekend at La Beaujoire," Kwateng remarked.
"We reviewed all our mistakes with the video coach this week. We were able to work on these aspects and it has helped us.
"We often have the ball, but we do not create enough opportunities, we must be more dangerous.
"We missed it in the first two matches, but it will come against Caen. Some things have been corrected in training."
Born to Ghanaian parents, Kwateng is currently eligible to represent Ghana at senior level.