PSL
Former Kaizer Chiefs trialist Kone lauded as a hero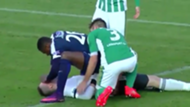 Togolese forward Francis Kone has been hailed as a hero by the football world.
This follows the 26-year-old's quick thinking reactions which saw the him save the life of the Bohemians' goalkeeper, Martin Berkovec.
Berkovec was knocked unconscious in the 29th minute of a match between FC Slovacko and Bohemians 1905.
This occurred after a collision with teammate Daniel Krch. Kone, who had a stint on trial at Kaizer Chiefs in 2014, noticed the opposition keepers distress and sprang into action.
Kone used his fingers to retrieve Berkovec's tongue in an effort to save the players life.
The forward was subsequently helped by some of the opposition players, who moved him into the recovery position as the medical staff rushed onto the field.
In the aftermath of the forwards heroics, Kone stated that this was not the first time his saved a player's life on the field.
"It wasn't the first time I have done that," Kone told Czech media.
"It's something like the fourth time. Twice in Africa, once in Thailand. I immediately checked to see if he had swallowed his tongue," he continued.
Both Berkovec and Krch were taken to hospital immediately after the incident and have both recovered.
The 28-year-old goalkeeper would later take to Facebook to express his gratitude to Kone.
"I would like to thank Francis Kone for his quick action in saving me during today's match," a post made on Facebook read.
"I am grateful for the prompt help and one again thank you," he concluded.