FIFA 19
FIFA 19 ratings: Premier League's best strikers, midfielders, defenders & goalkeepers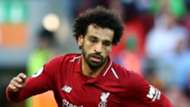 FIFA 19 will soon be gracing screens across the world with the game being released on September 28.
EA Sports have been building up to that date with a gradual unveiling of details to heighten anticipation among fans.
The best 100 players in the game were revealed this week and the game's developers are also unveiling the best players in each position in every league. 
The Premier League is home to some of the best players in the world, with the likes of Manchester United's David de Gea and Manchester City's Kevin De Bruyne among the top 10 in the world.
However, there has been some surprise at the rating of Liverpool star Mohamed Salah, who lags behind Eden Hazard and Harry Kane.
There is sure to be plenty of debate in the coming days and weeks over who deserves to be rated higher or lower among FIFA aficionados and fans of English football.
You can see all the best strikers, wingers, midfielders, defenders and goalkeepers in the Premier League, according to FIFA 19, below.
---
Best Premier League strikers in FIFA 19
---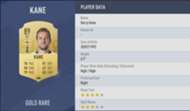 | Pos | Player | Club | Rating (OVR) |
| --- | --- | --- | --- |
| 1 | Harry Kane | Tottenham | 89 |
| 2 | Sergio Aguero | Manchester City | 89 |
| 3 | Romelu Lukaku | Manchester United | 87 |
| 4 | Pierre-Emerick Aubameyang | Arsenal | 87 |
| 5 | Roberto Firmino | Liverpool | 86 |
| 6 | Alexandre Lacazette | Arsenal | 84 |
| 7 | Alvaro Morata | Chelsea | 83 |
| 8 | Gabriel Jesus | Manchester City | 83 |
| 9 | Olivier Giroud | Chelsea | 82 |
| 10 | Jamie Vardy | Leicester | 82 |
---
Best Premier League wingers in FIFA 19
---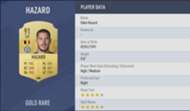 | Pos | Player | Club | Rating (OVR) |
| --- | --- | --- | --- |
| 1 | Eden Hazard | Chelsea | 91 |
| 2 | Mohamed Salah | Liverpool | 88 |
| 3 | Alexis Sanchez | Manchester United | 87 |
| 4 | Sadio Mane | Liverpool | 86 |
| 5 | Leroy Sane | Manchester City | 86 |
| 6 | Raheem Sterling | Manchester City | 85 |
| 7 | Riyad Mahrez | Manchester City | 85 |
| 8 | Willian | Chelsea | 84 |
| 9 | Bernardo Silva | Manchester City | 84 |
| 10 | Anthony Martial | Manchester United | 83 |
---
Best Premier League midfielders in FIFA 19
---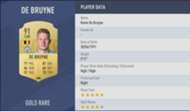 | Pos | Player | Club | Rating (OVR) |
| --- | --- | --- | --- |
| 1 | Kevin De Bruyne | Manchester City | 91 |
| 2 | N'Golo Kante | Chelsea | 89 |
| 3 | David Silva | Manchester City | 89 |
| 4 | Paul Pogba | Manchester United | 88 |
| 5 | Christian Eriksen | Tottenham | 88 |
| 6 | Mesut Ozil | Arsenal | 86 |
| 7 | Fernandinho | Manchester City | 86 |
| 8 | Nemanja Matic | Manchester United | 86 |
| 9 | Fabinho | Liverpool | 85 |
| 10 | Moussa Dembele | Tottenham | 84 |
---
Best Premier League defenders in FIFA 19
---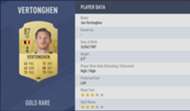 | Pos | Player | Club | Rating (OVR) |
| --- | --- | --- | --- |
| 1 | Jan Vertonghen | Tottenham | 87 |
| 2 | Nicolas Otamendi | Manchester City | 86 |
| 3 | Cesar Azpilicueta | Chelsea | 86 |
| 4 | Virgil van Dijk | Liverpool | 85 |
| 5 | Vincent Kompany | Manchester City | 85 |
| 6 | Toby Alderweireld | Tottenham | 85 |
| 7 | Sokratis | Arsenal | 84 |
| 8 | Kyle Walker | Manchester City | 84 |
| 9 | Davinson Sanchez | Tottenham | 84 |
| 10 | David Luiz | Chelsea | 83 |
---
Best Premier League goalkeepers in FIFA 19
---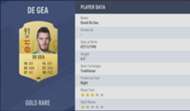 | Pos | Player | Club | Rating (OVR) |
| --- | --- | --- | --- |
| 1 | David de Gea | Manchester United | 91 |
| 2 | Hugo Lloris | Tottenham | 88 |
| 3 | Ederson | Manchester City | 86 |
| 4 | Alisson | Liverpool | 85 |
| 5 | Kasper Schmeichel | Leicester City | 84 |
| 6 | Bernd Leno | Arsenal | 84 |
| 7 | Rui Patricio | Wolves | 83 |
| 8 | Jordan Pickford | Everton | 83 |
| 9 | Kepa Arrizabalaga | Chelsea | 83 |
| 10 | Petr Cech | Arsenal | 82 |