A-League
FFA reject A-League heat stroke claims
Goal Australia Chief Editor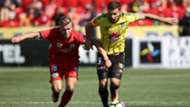 Football Federation Australia (FFA) has denied players suffered heat stroke during Adelaide United's 2-2 draw with Wellington Phoenix on Sunday.
Phoenix co-coach Chris Greenacre claimed following the A-League match that some of his players were "ill through heat stroke" at half-time of the game in Adelaide, which was played in very hot conditions.
But FFA has rejected the suggestion that player welfare wasn't a top priority.
The temperature in South Australia's capital at kick-off was 38.3 degrees Celsius according to the Bureau of Meterology but based on FFA's heat policy, which uses the Wet Bulb Globe Temperature (WBGT) as a measurement, it was below the threshold where kick-off delays should be considered.
According to FFA, the WBGT reading at kick-off was 25.6 - below the threshold of 28.
"The FFA Heat Policy clearly states that drinks breaks should be implemented if the Wet Bulb Globe Temperature (WBGT) reaches 26 degrees and there should be consideration of delays and postponement if the WBGT reaches 28," a FFA spokesperson said in a statement.
"The FFA Heat Policy offers greater consideration to players welfare than the FIFA policy and that of most other sports around the world.
"In line with FFA's Heat Policy both clubs were informed throughout the week of the forecast WBGT for Adelaide on Sunday to ensure the players were professionally prepared.
"The WBGT reading before the match on Sunday in Adelaide was 25.6. Despite this, Head of A-League Greg O'Rourke, who was at the match, consulted both team doctors and it was agreed to insert drinks breaks into the match as a further sign of FFA's interest in player welfare.
"This was all agreed and acknowledged by both teams.
"FFA has since been informed by medical staff at the match that no players suffered heat stroke during the match."
Greenacre claimed that Wellington had asked for the game to start later in the day to give the players the optimum opportunity to produce their best.