Arsenal
Fantasy Football: Robben, Di Maria, and other great Champions League additions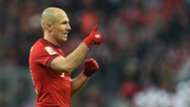 After a week-long hiatus, European action is back and with it comes another week of the Goal Fantasy Football Champions League game. Some of this week's ties look just about over in real life but, with plenty of fantasy implications still on the line, we will take a look at a player from each match and highlight why they would be a good addition to your team.
Don't forget, if you're yet to enter a team this season then it's not too late. There are weekly and monthly prizes to be won. Simply download the app and get started!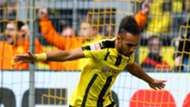 Pierre-Emerick Aubameyang
Position: Forward
Price: £8.1m
Ownership: 10.48% of teams
Club - Borussia Dortmund
Opponent - Benfica
Aubameyang has been on a terrific scoring streak of late having hit five goals in his last five matches. The Gabon international, now the Bundesliga's top scorer, will turn his sights to the Champions League where Dortmund must overturn a 1-0 deficit in order to advance. This situation should see manager Thomas Tuchel throw together a very attacking gameplan that could mean plenty of points for the 27-year-old on Wednesday.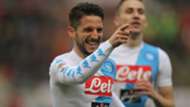 Dries Mertens
Position: Midfielder
Price: £7.1m
Ownership: 18.8% of teams
Club: Napoli
Opponent: Real Madrid
Mertens has been an absolute revelation at Napoli and is a staple of one of the most fluid and exciting attacks in football. His form has been terrific as well, having notched six goals and two assists in his last five Serie A matches. As for the Champions League, his four goals and two assists in seven matches make him one of the best options in fantasy. Also, while Real Madrid is a very scary match-up on paper they have looked shaky at the back having earned just one clean sheet in their last five matches.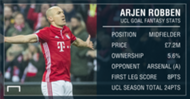 Arjen Robben
Position: Midfielder
Price: £7.2m
Ownership: 5.6% of teams
Club: Bayern Munich
Opponent: Arsenal
Lewandowski is the easy call here so let's give a little love to the aging Dutch star. Robben scored a delightful goal in the reverse fixture and Arsenal have not found a left back that can contain him since then. He has three goals and an assist in his last five matches and, considering how easily Arsenal were exposed for pace against Liverpool in the Premier League, it's easy to imagine Robben racking up the fantasy points in London.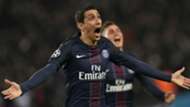 Angel Di Maria
Position: Midfielder
Price: £7.9m
Ownership: 12.68%
Club: Paris Saint-Germain
Opponent: Barcelona
It would be easy to list any of the Barcelona attackers who are surely out for blood, but it could be worth doubling down on Di Maria. Easily the best call from the Champions League XI post, the Argentine ran laps around Sergi Roberto and Jordi Alba to the tune of two goals in just 61 minutes of action. Now that Barcelona have to score at least four goals, those winbacks will likely be called to support the attack which should leave plenty of gaps for the PSG winger to exploit.