Gaming
Fantasy Football: Is there value in owning Alisson after his move to Liverpool?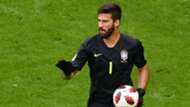 Liverpool have now confirmed the signing of Brazilian goalkeeper Alisson from Roma for a world record fee believed to be around £65m.
It is assumed that the Brazil international will take over the starting role from Loris Karius who had a very good 2018, but made a pair of high profile mistakes in the Champions League final that seemingly have cost him his spot.
The big question to ask from the Fantasy side is if Alisson is worth owning at around £6.4m?

In the Serie A last season, Alisson put up some terrific numbers finishing first in save percentage (79.3) and second in clean sheets (17) among regularly starting goalkeepers.
His performances helped Roma finish third in the table but also goals allowed and clean sheets. With two penalty saves and 28 goals conceded considered, Alisson would have notched 121 Fantasy points last season, which would have made him a top 10 goalkeeper in Goal's Premier League game.
Of course, there's more to this than just translating his Serie A numbers over to the Premier League. For a little more context, we need to look at Liverpool's numbers last season too.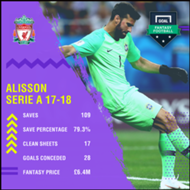 Jurgen Klopp's side have long been accused of being weak defensively, but they went a long way towards solving those issues last season. With Virgil Van Dijk, Andrew Robertson, and Trent Alexander all solidifying spots in the first team, the Reds conceded just 38 goals, their best record since 2009-10.
Those 38 goals were the fourth fewest allowed in the Premier League on the whole and, over the second half, they boasted the second best defence in the league.
There is actually a potential downside to Liverpool's improvement at the back, however. Last term they allowed just 268 shots, second best in England's top flight. While that may seem like a good thing, it may actually cost Alisson precious Fantasy points.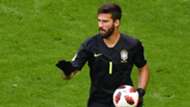 Last season he posted 109 saves, but they came from the 406 shots that Roma allowed. That 27.8% save to shot rate, adjusted to his new club, would have seen the Brazilian make just 72 saves last season. That would have ranked him a disappointing 15th in that category in the Premier League. It is dangerous to gamble on saves, but this is worth keeping an early eye on.
It seems that every year there are budget options that find their way high up in the goalkeeper ranks (2017 Pope, 2016 Heaton, 2015 Gomes, etc), but unless you accurately guess who that player will be, it's often the better decision to bring a "set and forget" elite option into your Fantasy team.
It is possible that a low-profile save monster will end up with more points than Alisson in the Goal game, but he has the potential to be an elite goalkeeper and should be owned as such.