Malaysia
FAM open to explore naturalised player option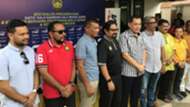 Addressing the fans at an open session in his home village in Sentul, Datuk Hamidin bin Mohd Amin expressed his desire to have the Malaysia national team one day to be complimented by the presence of naturalised players.
Having seen the FIFA rankings of the national team plummeted in recent years, Hamidin wants to explore this option in order to help improve the state of the national team as they push to get a place in the 2023 Asian Cup.
"It has long been my idea to do so (have naturalised players) even before my ascension to the president role. It is one way to help us improve as a team and on our rankings. But we will need to at the right way to implement it and not just to simply give out places," said Datuk Hamidin when asked by fans on how to improve the national team.
Currently the FIFA rules states that any player who assumes a new nationality and has not played senior international football [in an official competition of any category or any type of football] shall be eligible to play for the new representative team only if he fulfils one of the following conditions:
a) He was born on the territory of the relevant association;
b) His biological mother or biological father was born on the territory of the relevant association;
c) His grandmother or grandfather was born on the territory of the relevant association;
d) He has lived continuously for at least five years after reaching the age of 18 on the territory of the relevant association.
Despite seeing Philippines doing it with relative success, FAM has always resisted from taking the same route but this latest development shows a change of heart within the association.
Pahang's Mohamadou Sumareh is one player being looked at as a possible option what with the player having played continuously in Malaysia for over five years now but as yet, have not been called up in any of the national team's squad.
The qualification to the 2019 Asian Cup has proved to be disastrous for the national team, what with Philippines, Vietnam and Thailand all making the cut to the finals and Malaysia will once again be watching the tournament from afar despite the extended format from 16 teams to 24 teams.