Lionel Messi
Fabregas rues Messi's Spain snub: 'It would have been phenomenal'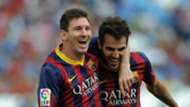 Cesc Fabregas admits it would have been "phenomenal" had Barcelona talisman Lionel Messi opted to represent Spain rather than Argentina.
Having joined the famed La Masia academy system at the age of 13, a mercurial talent was granted Spanish citizenship five years later in 2005.
He had, however, already taken the decision by that point to pledge his international allegiance to the land of his birth – having represented Argentina's U20 side.
Fabregas, as a man to have played alongside Messi at youth and senior level at Barcelona, is fully aware of what Spain missed out on and what a close friend could have achieved as part of a generation which tasted two European Championship triumphs and a World Cup win between 2008 and 2012.
A man now on the books at Chelsea told TyC Sports: "It would have been phenomenal if Leo had played for Spain, we would have won more titles, but he always felt very Argentine and I think it was the perfect decision to play for his country." 
After opting for Argentina, Messi has not always enjoyed the same level of support from those in his homeland as he has elsewhere.
Expectation around a five-time Ballon d'Or winner is understandably high, but Fabregas admits to being left bemused by those so quick to criticise a man who should be untouchable.
He added: "When everyone lauds him for what he does, it doesn't seem normal to me that in [Argentina] they criticise him so much. I can't understand it because it's where he should be valued the most." 
Messi will be hoping to deliver when it matters most this summer, with Argentina having already relied on a hat-trick from their talismanic skipper in a final qualifier to book their tickets to Russia.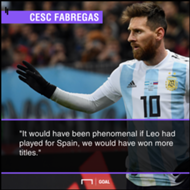 Fabregas admits that he "stayed awake until three in the morning waiting for the game between Ecuador and Argentina."
"I had to see if Messi was going to reach the World Cup," says Fabregas. "Football owes Argentina one." 
It could be that two former team-mates cross swords on a global stage, with Spain and Argentina among the favourites to go all the way.
If Fabregas is to find himself faced with the challenge of trying to contain Messi, then the 30-year-old midfielder will be hoping to fare better than he did during his first training session with a mercurial talent.
He said when reminiscing on that day: "I had to defend against him and you know he's going to the left, and he does, but he still makes me fall to the floor!"