Bloemfontein Celtic
EXTRA TIME: Watch Bloemfontein Celtic lose on tour to West Ham U23 in London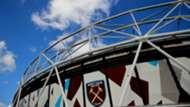 South African Premier Soccer League club Bloemfontein Celtic has sent their development squad on a tour of London.
Celtic's reserve team was rewarded to go on tour of England after winning the Multichoice Diski Challenge.
The club has posted a number of videos of their match against West Ham United's U23 team.
You can watch the Bloem Celtic youngsters singing on the way from South Africa to London and on their way to the grounds.
Then there's videos of their pre-match coaching tips from assistant Ditheko Mototo.
Finally, there's excellent video coverage of a number of key events of the match. You can watch some highlights, goals and the kickoff  from various angles.
On Wednesday, Celtic take on another English Premier League team's youth side, Fulham.
Flying the flag. #SiweleleInUK https://t.co/SFYjl7VAaF

— Bloemfontein Celtic (@Bloem_Celtic) March 18, 2019
.@Bloem_Celtic in LONDON 🗣🎶🇿🇦🏴󠁧󠁢󠁥󠁮󠁧󠁿✊🏾💚

The Siwelele Choir is making a long trip super short 😎#SiweleleInUK #Asidlali pic.twitter.com/fqkXvRPUDA

— Asidlali (@Asidlali) March 17, 2019
Singing as they take a "young walk" in Chadwell Heath (West Ham Youth Training Facility) ahead of the match vs @whufc_official U/23.#SiweleleInUK… https://t.co/k3OykJ0plR

— Bloemfontein Celtic (@Bloem_Celtic) March 18, 2019
MATCHDAY ALERT 🚨

West Ham United 🆚️ @Bloem_Celtic

⚽️kick-Off 14:00

🏟 Chadwell Heath (West Ham Youth Training Facility) #SiweleleInUK #Asidlali pic.twitter.com/bAIUMBgFp4

— Official PSL (@OfficialPSL) March 18, 2019
.@Bloem_Celtic assistant coach Ditheko Mototo runs through tomorrow's game plan 🇿🇦⚽️🏴󠁧󠁢󠁥󠁮󠁧󠁿#SiweleleInUK #Asidlali pic.twitter.com/FPme5ZBPwu

— Asidlali (@Asidlali) March 17, 2019
65' West Ham U/23 scores from the penalty spot.

West Ham U/23 2 - 1 @Bloem_Celtic.#Asidlali#SiweleleInUK#SiweleleYouthDevelopment

— Bloemfontein Celtic (@Bloem_Celtic) March 18, 2019
.@Bloem_Celtic coach Abram Nteo prepping the lads for their first match on tour!

West Ham U23 will host Siwelele at Chadwell Heath tomorrow 🇿🇦⚽️🏴󠁧󠁢󠁥󠁮󠁧󠁿#Asidlali #SiweleleInUK pic.twitter.com/kZiKpUzjPw

— Asidlali (@Asidlali) March 17, 2019
Full Time here at Chadwell Heath ⚽️🇿🇦🏴󠁧󠁢󠁥󠁮󠁧󠁿@WestHamUtd U23, 2-1, @Bloem_Celtic

A valiant effort by Siwelele but the Hammers young lads come out victorious on the day 😌#Asidlali #SiweleleInUK pic.twitter.com/E3P3hwKOlR

— Asidlali (@Asidlali) March 18, 2019
Pre-Match interviews with coach Liam Manning of @WestHamUtd and Abraham Nteo of @Bloem_Celtic @Asidlali #Asidlali #SiweleleInUK #SiweleleSaMasele pic.twitter.com/aZcXcFpRYz

— Lerato Phago (@leratophago_) March 18, 2019
GOAL for @WestHamUtd U23!

Longelo gets his brace from the penalty spot 😓⚽️@WestHamUtd 2-1 @Bloem_Celtic#Asidlali#SiweleleInUK pic.twitter.com/JMz5MmYxEP

— Asidlali (@Asidlali) March 18, 2019
.@Bloem_Celtic heading out for warmups ✊🏾#Asidlali #SiweleleInUK pic.twitter.com/HuLch9OxaY

— Asidlali (@Asidlali) March 18, 2019
🇿🇦🏴󠁧󠁢󠁥󠁮󠁧󠁿⚽️MATCH UNDERWAY 🇿🇦🏴󠁧󠁢󠁥󠁮󠁧󠁿⚽️@WestHamUtd U23 0-0 @Bloem_Celtic#SiweleleInUK #Asidlalo pic.twitter.com/INSvuFHROv

— Asidlali (@Asidlali) March 18, 2019
Goal for @WestHamUtd U23!

Siwelele caught napping at the back post and the home side level matters.@WestHamUtd U23 , 0-1 , @Bloem_Celtic #Asidlali #SiweleleInUK pic.twitter.com/DU9wtTheBu

— Asidlali (@Asidlali) March 18, 2019
We've arrived at Chadwell Heath ✊🏾🇿🇦⚽️🏴󠁧󠁢󠁥󠁮󠁧󠁿@Bloem_Celtic #SiweleleInUK #Asidlali pic.twitter.com/TJeUUxHrW6

— Asidlali (@Asidlali) March 18, 2019